Nowadays, buying groceries, clothes, and other items is part of our daily living. Since you will make these purchases anyway, using a top cashback app like Fetch Rewards makes sense to save money when shopping. You can use so many reward apps to save more money and earn extra rewards these days. And out of all the reward apps, Fetch Rewards is one of the most popular.
While these apps may function differently, they usually involve shopping for different things, uploading your receipt as proof, collecting points, and exchanging them for cash, gift cards, coupons, etc.
But if you are trying to expand the number of cashback apps you use and want to earn more rewards, coupons, and cash bonuses, plenty of cashback apps like fetch rewards you should be using.
Let's check them out.
What is the Fetch reward?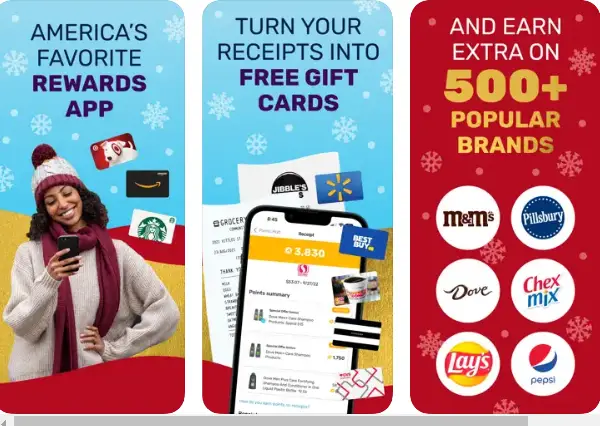 Fetch Rewards is a cashback app that helps you earn money back on the purchases you already make. Fetch Rewards lets you earn points for your shopping. It's completely free, and all it takes is a few seconds to scan your purchase receipt after you've made it. You can then redeem those points on various offers from major brands like Target, Starbucks, and Applebee's! 
The best part? You don't even have to leave the house or spend more money than normal to earn these rewards—all it takes is a few minutes here and there! And unlike other similar apps, this one works in stores, too no need to search online for an available product before shopping at the store of your choice.
Why do People Like Fetch Rewards?
People love Fetch Rewards because it's easy to use, and they can get money back on things they already buy. You have to download the app, link your credit cards, and start shopping! The app automatically tracks all of your purchases, so you don't have to worry about entering them manually—and if your phone runs out of battery, no problem! The app will still keep track of how many points you've earned and redeemed.
 It's also great for people who want a way to earn rewards without having to do anything extra in addition to their regular shopping trips.
To save money on purchases, you can also use other top apps like Fetch Rewards if you're looking for reliable cashback apps.
We have compiled 13 cashback apps like Fetch Rewards to save you time.
Top cashback apps like Fetch rewards?
1. Rakuten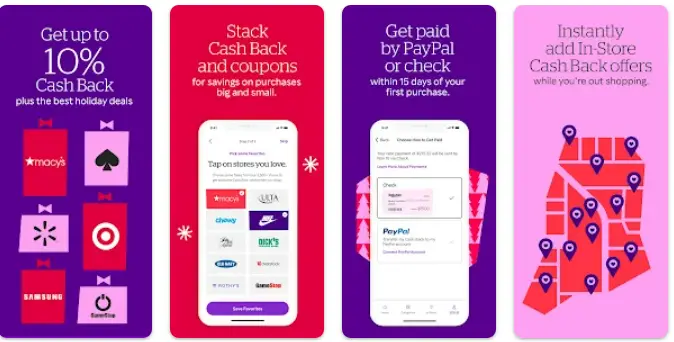 Rakuten is a cashback site that provides users with cash back on their purchases from over 2,500 stores. With Rakuten, you get access to coupon codes and promotional offers directly from the retailer, enabling you to save money on your favorite products. In addition to offering cash back on purchases, Rakuten offers gift cards for brands like Nike and Best Buy.
If you refer someone who signs up for an account with Rakuten through your unique link (which is found in your account dashboard), you can earn $25 per referral! The person who signs up will also receive $10 off their first purchase and a $5 credit towards any other purchase made within the next year.
Read our another article on Rakuten Review.
2. Swagbucks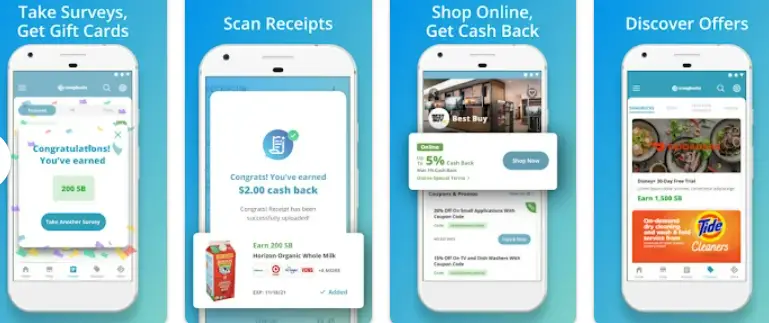 If you're looking to earn some extra cash, Swagbucks is a great option. It's an online rewards program that allows you to earn points for completing different activities. Earning points and redeeming them for gift cards or cash is as simple as watching videos, shopping online, taking surveys, etc.
There are a few ways you can earn points with Swagbucks:
Watching videos – You get 5 points per video watched (up to 30 per day), which adds up quickly!
Shopping online – Each time you shop through Swagbucks' website, they'll give 3% back in the form of S.B.s (Swagbucks). This can add up if you shop frequently!
Taking surveys – You'll also receive S.B.s when completing surveys through the site. These usually take about 15-20 minutes to complete.
There are also several ways you can redeem your points: by booking travel reservations through their partner airlines, getting discounts at hotels, buying discounted gift cards from various retailers like Target or Walmart, donating your earnings directly towards charities that benefit from donations, etc.
Read our another article on Swagbucks Review.
3. Drop
Drop is a mobile rewards app that lets you earn points for gift cards for shopping at your favorite stores. With Drop, you collect points by doing everyday things like eating out or working out (or whatever else you're into). Points can then be redeemed for gift cards to your favorite brands.
Drop is available in Canada and the U.S. and iOS and Android devices.
Read our another article on Drop Review.
4.ReceiptHog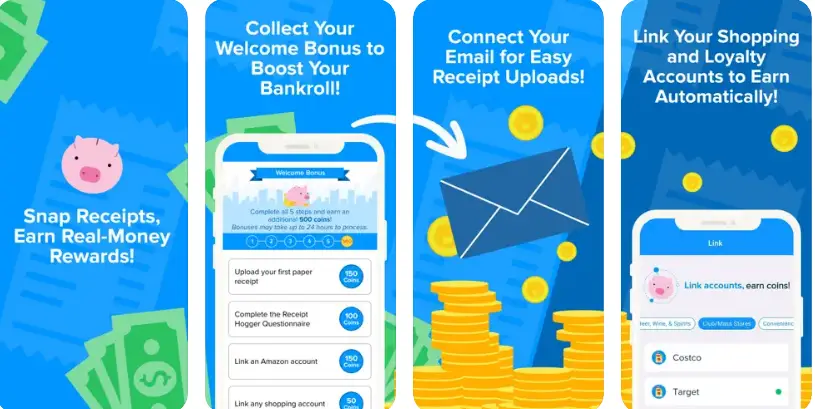 Receipt Hog is another excellent app that will help you earn extra money while shopping. With this app, all you have to do is take a picture of your receipt, and Receipt Hog will pay you with coins that can be redeemed for cash.
You may have used this kind of app before to get rewards for shopping at certain stores, but the difference between Receipt Hog and its competitors is that it works with any store or brand!
Read our another article on ReceiptHog Review.
5. Ibotta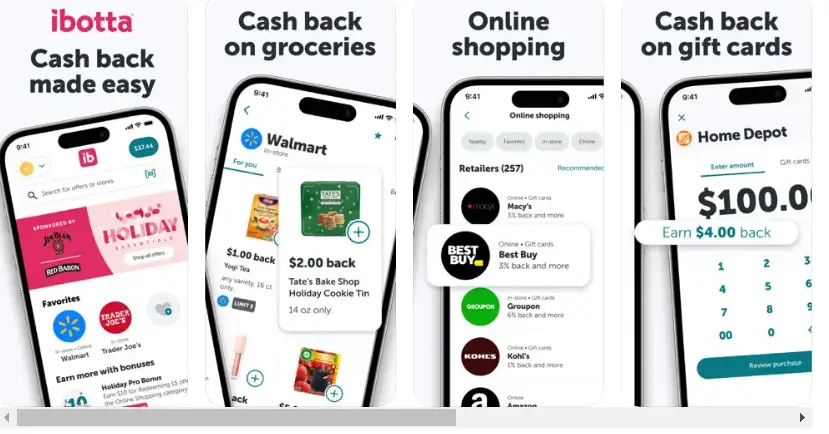 Ibotta is a mobile app that allows you to earn cash back on everyday purchases. It is a very popular app with users and has a 4.6/5 rating on Trustpilot.
When shopping at participating stores, simply open the app, find an offer and scan its barcode via your smartphone camera. You will then receive your money back when you buy the product!
What Store Are Brands Available?
Ibotta currently works with more than 1,500 grocery brands, including Kroger, Walmart, and Target, to name only a few! These are much bigger companies than most other apps as this means more offers in general, which means there's bound to be something for everyone here no matter what type of budget they're working with (unless maybe you're looking for something specific).
Read our another article on Ibotta Review.
6. Checkout 51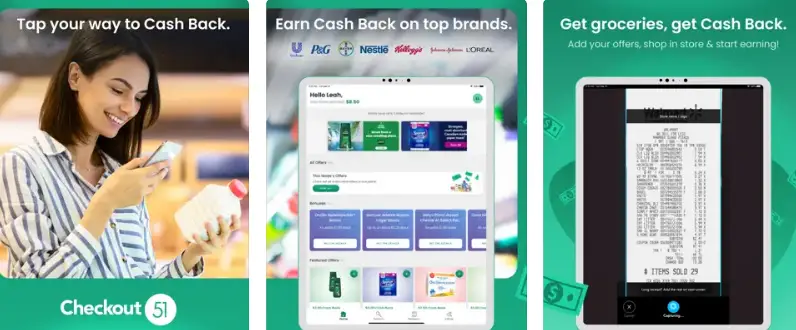 Get cash back on your grocery purchases with Checkout 51. This app makes it easy to redeem your rewards, and there are many products available for purchase, from produce to cleaning supplies. You can get money back for buying all kinds of things, making it an excellent option for anyone who loves to shop at the grocery store!
There are weekly offers that give you extra cashback if you spend enough money on specific items. The app announces it offers on Thursdays, and they expire at midnight on Wednesdays. It works by adding the orders to your shopping list, checking them off when you purchase and upload the receipts.
Everyone gets even better offers if someone refers their friends or family members. You can also redeem rewards through Paypal or check payments which come in handy when shopping online because most online stores don't accept PayPal as an option yet still accept checks! The best part about using Checkout 51? It's completely free; all we have to do is download the app onto our phone lineup costs nothing upfront but could save us hundreds over time if used correctly.
Read our another article on Checkout 51 Review.
7. Shopkick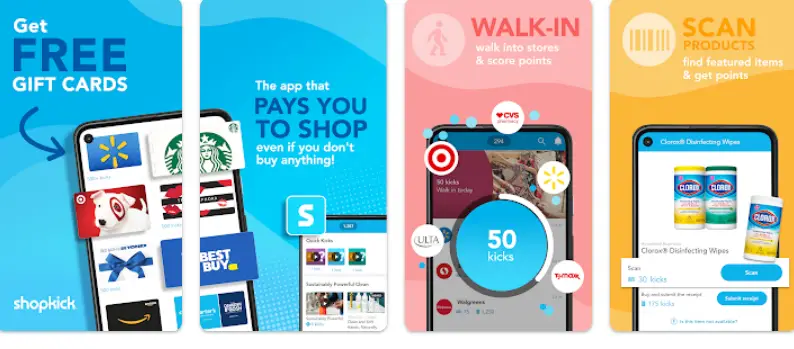 Shopkick is one of the most popular rewards apps that lets you earn gift cards as you shop online or in-store. You can earn points by scanning barcodes at your local grocery store and other retail stores, doing activities like taking surveys or watching videos on Youtube, and more! The points can then be redeemed for gift cards (such as Amazon, Target, and Walmart) or exchanged for sweepstakes entries. This app is free to download and easy to use.
The best feature of Shopkick is that it gives out rewards without any effort! You need to open the app when you are near a participating store location (you will see an alert appear on the screen). You don't even have to walk into the store if there isn't anything interesting that catches your eye—you could turn around mid-step and head home after earning some bonus points by using this app!
Shopkick has been around since 2010—which means they've had plenty of time perfecting their services through trial-and-error until reaching an optimal rate of customer satisfaction: 99%.
Another great feature of Shopkick is that it allows you to get discounts by purchasing from brands directly through their websites rather than through third-party websites like Groupon or Living Social. As a result, the process is faster, saving both parties time and money while they wait around for hours for a confirmation email regarding their purchase order.
Read our another article on Shopkick Review.
8. Caddle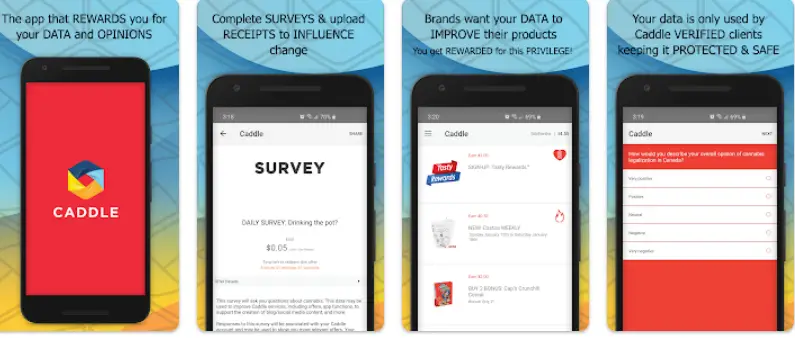 Caddle is a cashback and receipt app similar to Fetch Rewards. The app works the same way as Fetch Rewards, giving you cash back on purchases. The only difference is that Caddle allows you to get cashback on local deals!
You can download the app from your device's app store and then create an account or log in with your Facebook profile. Once set up, it will prompt you to add any stores that you regularly purchase from so it can track those purchases for future rewards.
The main feature of Caddle over other apps like Fetch Rewards and SavingStar is that it gives more options for getting your money back: online shopping and things like eating out at restaurants or going grocery shopping at local supermarkets and pharmacies (something many people do every day). You can get up to 25% cashback per transaction using this service!
9. Get upside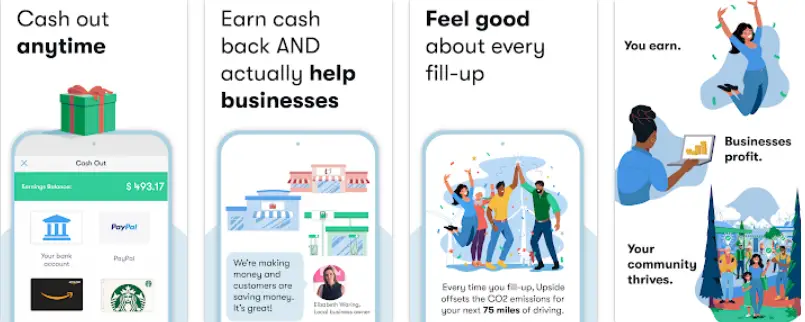 Get upside is a cashback app that helps you get the best deals on gas and food. Unlike other cashback programs, get upside focuses on gas, snacks, and drinks at gas stations. To earn cashback at these stations, you have to scan your loyalty card using the app before purchasing. The app will automatically apply rewards when you check out while playing with the same credit card or debit card linked to your account.
Read our another article on
10. Amazonpanel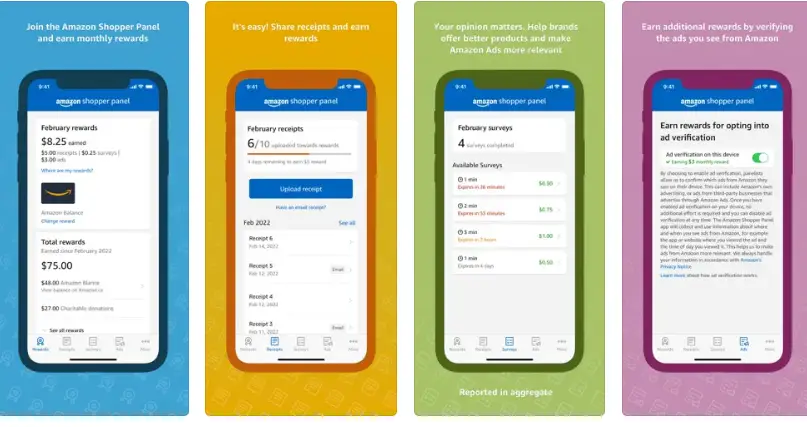 Join Amazon Panel and earn cashback on almost every purchase you make, including food, clothes, home decor, etc. You can even earn money back when shopping at stores like Target and Walmart.
You'll also get access to exclusive promotions that aren't available anywhere else. Plus, if you are a Prime member, you will get 2x points on all purchases!
Here are some of the things you can do with your points:
• Get gift cards for restaurants like Starbucks or Dunkin' Donuts
• Save up for big-ticket items like vacations or new cars
• Redeem rewards for cash back as soon as they accumulate in your account
11. Recipiet pal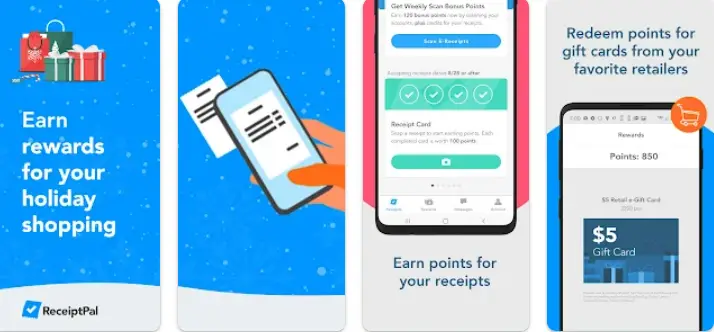 Receipt Pal is an app that scans your receipts and gives you cash back. You can scan receipts from any store, restaurant, or online retailer and get cashback on your purchases. Asides from uploading receipts, you can connect your email address and Amazon account and receive 650 and 300 points, respectively.
It also automatically validates purchases, so you don't need to upload receipts. Also, when you refer a friend, you get 250 points when they sign up and connect their email.
Plus, whenever you upload receipts, you're entered into weekly sweepstakes with the chance to win a $250 gift card. Check out their website for a full list of stores and restaurants affiliated with RecepietPal.
12. Savingstar
This app works by linking your savings card(s) to the app and requesting a "check" from SavingStar when you want cash back. The money is taken out of your account but isn't deposited immediately. The next day, sometimes even later than that (the time it takes depends on your bank), you will see that money in your Savings account.
For this app to work properly, you have to link at least one store card and one credit/debit card so that SavingStar can transfer funds directly into your savings account. For example, if you chose Target as one of your stores and linked a debit card with the same name as yours to receive coupons via email or text message every week with instructions on how much money was added to each spending category (e.g., groceries).
The amount added depends on what products were purchased from Target using this specific method during those days; in other words, purchases made at Target using our debit cards after adding funds through an offer through SavingStar will not receive any monetary benefit; until we finish shopping there.
13. Befrugal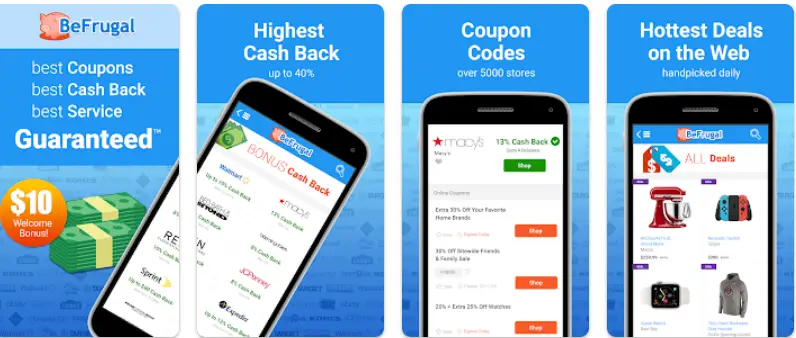 If you are looking for an excellent alternative to Fetch Rewards, befrugal is the perfect app. Befrugal's main feature helps you save money on items you already buy every week.
Save money on groceries – Befrugal allows shoppers to earn cash back when they shop at more than 3,000 local grocery stores and drugstores. Shoppers can receive up to 20% in savings by adding eligible purchases made at these locations into their accounts. The bonus here is no minimum purchase requirements or special membership fees for shoppers to earn rewards using this program!
Earn cash back on other purchases – Befrugal also offers an extensive list of retailers where shoppers can earn cash back by shopping with them through their mobile phones. Some retailers include Nordstrom Rack, Kohl's, Macy's, and Target, to name a few!
Read our another article on Befrugal Review.
Why should you use cashback apps?
When you use cashback apps, you can save money on everyday purchases. Since you'll likely buy groceries and other products at least once a week, gas, and maybe even eat at restaurants, this is a great way to save money.
Additionally, they help keep your purchases organized and provide other bonuses besides cashback.
How Much Can I Make with Cashback Apps?
Cashback apps don't make you rich, but they provide an excellent way to save money on your daily purchases. With some dedication, you can make a monthly income of $20 or even more if you make referrals, take surveys, and do other tasks.
Conclusion
There are many rewards apps on the market, and it can be challenging to know which ones are right for your shopping habits while still being worthwhile. The apps mentioned above are excellent for recouping some of your grocery costs, whether it's an app that offers cash back on groceries like Checkout 51 or one that does general cashback like Receipt Hog.
Additionally, what is best for you depends on whether you are willing to put in extra effort to make the most money back or if you would prefer to use a passive app. Either way, It won't hurt to try a few out and see which one is right for you- or better yet, pick more than one!
We hope that this list of Fetch Rewards alternatives gives you additional options to make quick money and save money!