Coupons are an incredibly popular tool when it comes to saving money. According to a 2020 Statista survey, 88% of respondents had used coupons to save money within the past year. Furthermore, mobile coupon apps and online searches are also popular with consumers.
However, when you search for coupons online, you will likely find expired coupons or expired codes that do not work. By the time you've spent wasting your time on dozens of websites, you may give up on your quest to save with coupons entirely.
If this sounds familiar to you, you need to switch to RetailMeNot, a free coupons and cashback rewards website. With thousands of coupon codes and hundreds of retail partners, RetailMeNot offers a great way to save money when you shop online or in-store.
In this RetailMeNot Review ,we"ll tell you what exactly RetailmeNot is, How it works, its key feature, and much more. 
What is RetailMeNot?
RetailMeNot is a shopping platform that features savings from over 35 categories, including food, fashion, beauty, and travel. The company provides various savings options, differentiating it from many of its competitors that focus on a core savings model like daily deals or receipt scanning. According to its website, RetailMeNot drew in nearly 500 million visitors to its website internationally in the recent 12 months.
RetailMeNot makes money by partnering with stores and brands, selling its data and insights on consumers so sellers can gain information that helps them understand category trends, test their offer strength and quality, and boost engagement with promotions. Retail partners include Ulta Beauty, Papa John's, HP, Express, Best Buy, Ruby Tuesday, Hotels.com, and Gap.
How Does RetailMeNot Work?
RetailMeNot offers several ways to save money while shopping. The first is through cashback offers. Like other online rebate sites, you must create an account with RetailMeNot.
You can find cashback offers for your favorite stores on its website or app. You are taken to the online store's website by clicking on the cashback link, and the cashback is activated. 
You must complete your purchase without leaving that page when you get there. After confirming your purchase, RetailMeNot typically takes 45 days to process cashback. Your cashback will appear in your RetailMeNot Wallet after the waiting period.
You can redeem your RetailMeNot Wallet funds with either PayPal or Venmo.
How to Sign Up With RetailMeNot?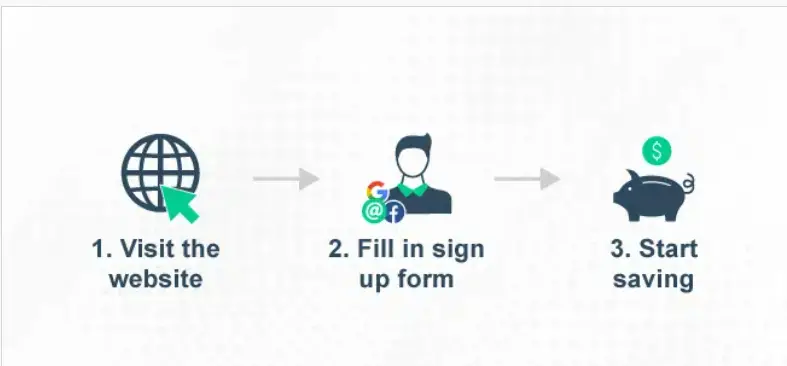 RetailMeNot lets you use coupons and deals without creating an account. However, to activate cashback offers, you will need to follow these steps:
Visit the sign-up page, then enter your email address. 
Create a password with at least eight characters. Do not use a common password.
Click on Sign up
You can also sign up with your Facebook, Google, or Apple account.
RetailMeNot Features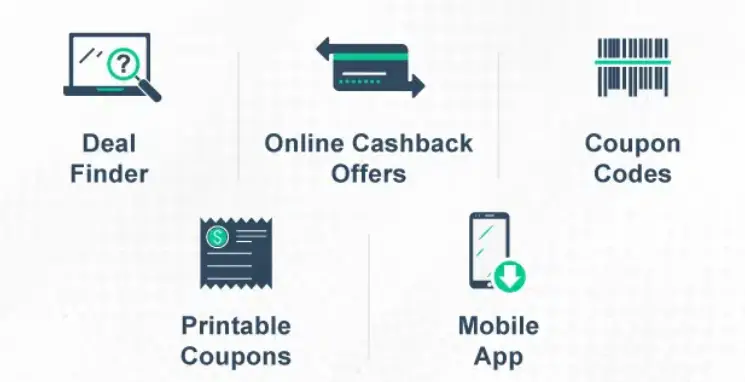 Deal Finder
RetailMeNot Deal Finder is a browser extension that makes it easier for you to search and use coupons. It is compatible with the following desktop computer browsers:
Firefox
Microsoft Edge
Chrome
Safari
You can also use Deal Finder on Safari if you use an iPhone. 
Directly visiting your favorite online stores is easy with Deal Finder. Deal Finder will then search the online stores for coupons and cashback offers.  
The system will run those coupons when you're ready to check out and apply the ones that will save you the most money.
Online Cashback Offers
With this feature, you can use the RetailMeNot website to activate cashback offers. Simply search for your preferred online stores or browse different categories. 
You will be redirected to the online store's website after clicking the cashback offer you wish to activate. To receive cashback, you need to complete your purchase. Qualified cashback goes into your RetailMeNot wallet after 45 days. 
Coupon Codes
You may notice that Deal Finder does not suggest coupons for some stores. To find coupons in these cases, you can check the RetailMeNot website or app. Just use the search bar to find your preferred online store. 
If coupons are available, you must paste them into the coupon box at checkout after copying the code. 
Printable Coupons
Some partner stores offer printable coupons. These work the same way as the coupons you cut out of flyers and magazines. Check the terms and conditions before printing and bringing these to the store. 
Mobile App
You can access coupons and cashback offers on RetailMeNot's mobile app. To qualify for cashback offers, you must complete your shopping within the app.  
Over 19,000 in-store and restaurant coupons are available through the Mobile App, which can be claimed at participating stores by scanning the barcode in the app. 
RetailMeNot also allows you to search for nearby deals if you have enabled location services on your mobile device. 
RetailMeNot Review:Pros and Cons
RetailMeNot Pros
Real Cash Savings. Rather than offering only gift card rewards like Fetch Rewards, RetailMeNot lets you redeem cash through PayPal or Venmo and spend it however you like.
Low Redemption Minimum. Compared to other reward platforms, such as Ibotta, RetailMeNot's $5 redemption minimum is incredibly low. Ibotta typically requires $20 to cash out, making RetailMeNot faster to take advantage of.
Extensive Coupon Database.RetailMeNot can help shoppers save money by offering hundreds of thousands of coupon codes and a wide range of retail partners.
Online and In-Store Offers. Whether you shop online or in-store, RetailMeNot's website, printable coupons, and mobile app can help you save money.
Multiple Countries.RetailMeNot is available in the U.K., Canada, and the U.S.
Optional Membership. Using RetailMeNot requires an account to earn cash back and join the community leaderboard. Despite this, you can still search for coupons without registering.
Customer Care Team. Those having trouble redeeming rewards or using the website can find assistance on RetailMeNot's help page. You can also chat with a representative if you need immediate assistance.
RetailMeNot Cons
Cash-Back Reward Selection. Compared to Rakuten and TopCashback, RetailMeNot usually only offers a small number of cashback offers.
Time Requirement. You must search manually for coupon codes, and cashback offers if you don't use RetailMeNot's Deal Finder extension.
Layout. Generally, RetailMeNot's website is easy to use and user-friendly, although some users may find its multitude of categories and types of coupons confusing. Comparatively, platforms like Honey and Capital One Shopping make managing rewards and finding savings easier.
RetailMeNot Coupons Aren't Perfect.Typically, the voting system and community enhance the quality of coupon submissions, so the codes are active. However, no coupon website is perfect, and there might still be expired or inactive coupons.
Is It Safe And Secure?
RetailMeNot doesn't have any access to your bank account. So, your financial details are safe and sound. 
But the extension will collect information about your location, web history, and shopping activities. But the information will not be sold to third parties or used to determine a consumer's creditworthiness. 
If you are concerned about the privacy policy, it's best to skip the tool. But for many, the ability to save on online purchases will win out.
Is RetailMeNot Legit?
RetailMeNot is a legitimate and safe money-back site. Its mobile app received 4.8 reviews on the Apple App Store and 4.6 reviews on the Google Play Store and has more than 1 million users on Chrome Web Store.
Many users appreciated how they got automatic coupons and saved money without having to do anything beyond installing the browser extension. Others complimented the selection of retailers since they can usually find their preferred stores. 
While others complained that coupons were not working, users also reported having trouble activating cashback and redeeming rewards, as the app only displayed an error message. 
Who is RetailMeNot Best for?
The RetailMeNot Cashback Site is great for anyone looking to save money on their online purchases. And if you enjoy finding coupons and offers, RetailMeNot is certainly one of the best cashback sites to use. 
Conclusion
It's difficult to find a legitimate deal site that can save you money in today's highly competitive reward apps and cashback apps. If you're looking for ways to save money when you shop, you will find an abundance of extensions and apps that will claim to lower your bill.
However, RetailMeNot is a leader in this category for a reason. When you combine RetailMeNot with other online shopping hacks like comparison shopping engines, you can find deals all year long. Plus, with its printable coupons and mobile app, RetailMeNot can impact your wallet even when you're in-store shopping.
It's always a good idea to stick to a budget whenever you shop. The RetailMeNot site excels at saving you money, but you should still keep a budget in mind.
RetailMeNot FAQ.
How long does RetailMeNot cashback take?
It takes RetailMeNot 45 days to process cashback.
Does RetailMeNot have a referral program?
Currently, RetailMeNot has no referral program. 
Can you have multiple RetailMeNot accounts?
You can only create one RetailMeNot account at a time. You cannot have more than one account. 
Can you use RetailMeNot coupons in-store?
It is possible to use RetailMeNot coupons in-store. The company offers printable coupons you can use in-store and QR codes you can scan in the mobile app to redeem coupons.
How Much Cashback Can You Get With RetailMeNot?
Cashback offers depend on which online store you visit. However, RetailMeNot claims that its users receive nearly $10 per order.  
Is RetailMeNot Free?
Yes, RetailMeNot is free to use.