Whether you're heading to the grocery store or need to buy new clothes, earning rewards for shopping can be fun. Cashback apps are easy to save and earn money back on your everyday purchases. Making your finances automated, whether for paying bills or saving money, is a secret to growing wealth. Cashback apps can be a part of that strategy by providing discounts, rebates, or points applied to future purchases. Free cashback apps are a great way to improve your personal finance routine and can be a great addition to your regular routine. Thus, if you aren't using cash rewards apps, you miss out on free money. Check out these popular choices for the best cashback apps.
What is a Cashback app?
Cashback apps give you money back for a purchase you made or provide a coupon for additional discounts on things you've already purchased. Some apps offer points that can be redeemed to discount future purchases. You can get $1000 and more just as sign up bonus if you create a new account.
Best cashback apps
 The following are some of the best cashback apps for groceries, shopping, and more.
1. Rakuten
Rakuten is a cashback app that gives you money back for shopping and booking travel. You can also get money back for withdrawing cash from an ATM or for referring friends to the app. The best part? You can get a $10 welcome bonus just for signing up!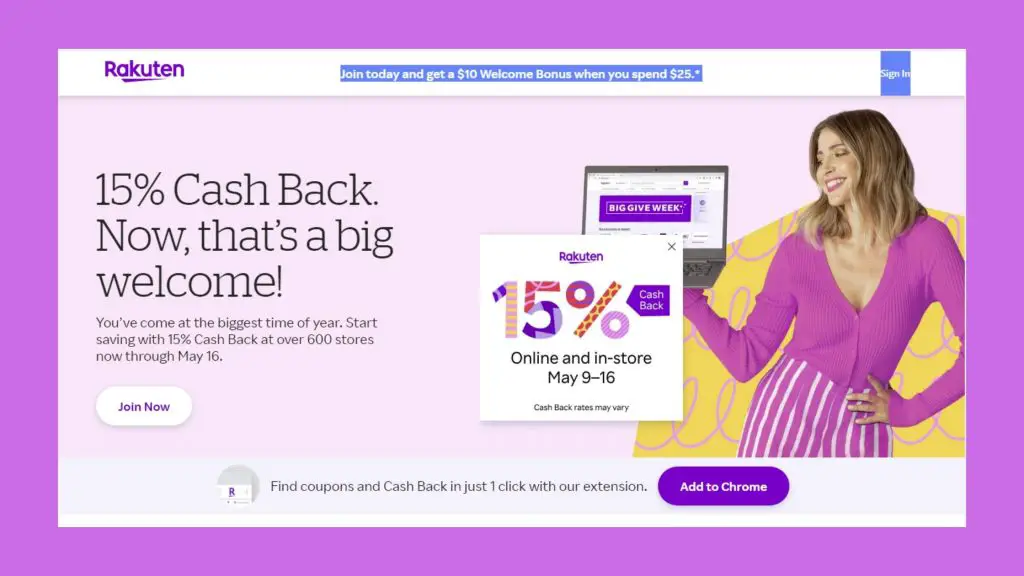 The app rounds up your purchases to the nearest dollar and deposits the difference into your Rakuten account. It also features daily offers on products like Amazon Prime subscriptions, movie tickets, etc. To redeem rewards earned using Rakuten Pay, select "Use reward balance" when checking out on any merchant site or in-app purchase (excluding tax). Also, if you refer a friend or family member and they make a purchase, you will get a $25 referral bonus. Your shopping could be made more affordable thanks to Rakuten with very little effort.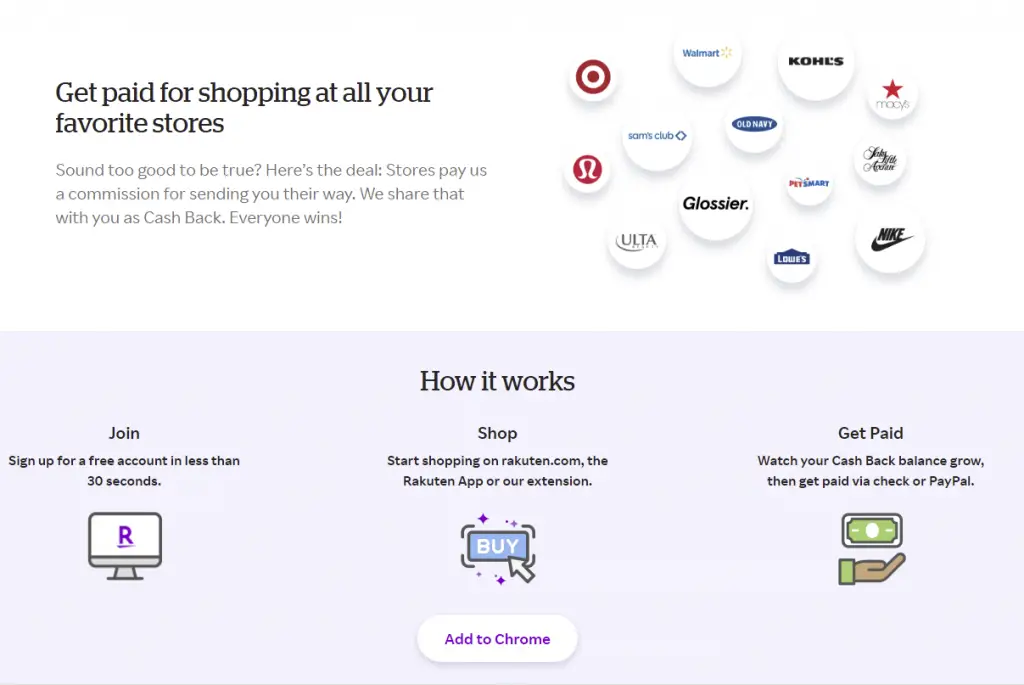 2. Dosh
Dosh is an online platform that helps you earn cashback rewards and gift cards. You just have to download the app and link your credit card to get started. You will earn $5 automatically for linking your first card.) The app lets you search for offers such as restaurant discounts or store coupons. Once you have selected the offer(s), simply provide your information and place your order. You'll get a notification when your purchase is complete, then wait for confirmation from Dosh that it's been processed—usually within 24 hours or less!
By allowing the app access to your location, you can see which stores, restaurants, and other places in your area offer cashback. You don't have to do much to earn cashback with Dosh.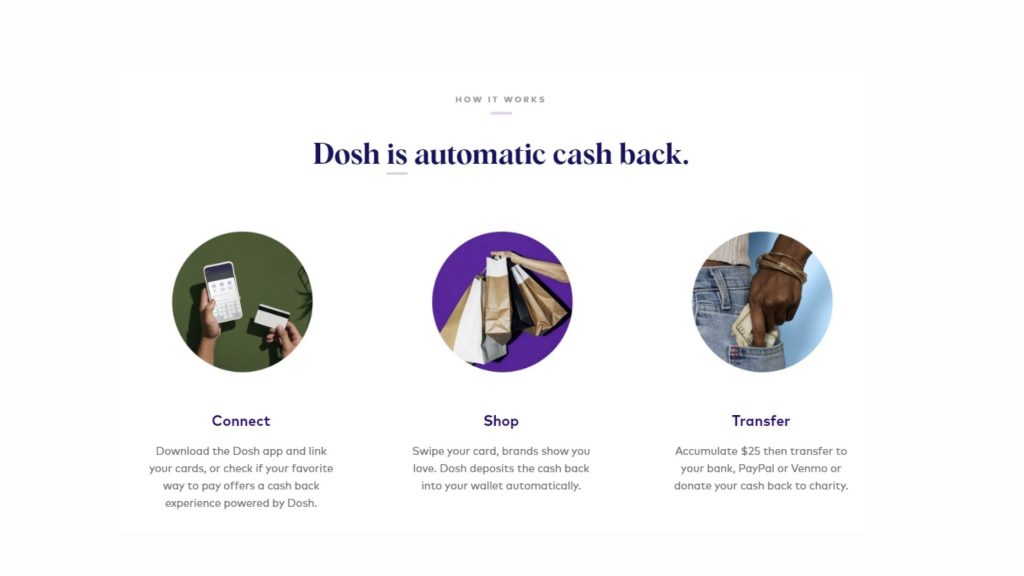 Keep doing what you usually do, and the app will let you know if you've earned cash back for your dinner date or brewery visit. Plus, when you refer a friend, you'll earn $5.
Your cash can be redeemed via Venmo, Paypal, or direct deposit once you have a minimum of $25 in your account.
3.BeFrugal
 Befrugal has partnered with thousands of stores to give you cashback when you shop. With a free BeFrugal membership, you can earn up to 40% cashback at 5,000 stores. cashbackBeFrugal collects thousands of exclusive coupons and promo codes in addition to rebates.
BeFrugal is so confident about its promo codes that if you find one that doesn't work, the company will give you $5. Furthermore, BeFrugal will match other cashback sites to ensure you get the best deal.
If you find a better rate on another site, BeFrugal will match that rate plus an additional 25%. Each new member receives a $10 welcome gift, and you can get $10 for every friend you refer that earns at least $10 in cashback within a year.
Your cashback can be redeemed via check ($25 minimum), direct deposit (no minimum), or Paypal (no minimum). Or you can use it to purchase a gift card that comes with a bonus of 1% to 6%.
Shop directly through the website, add the BeFrugal button to your browser, or download the mobile app from the App Store or Google Play to start earning cash.
4.TopCashBack
TopCashBack is a great option to consider when looking for a cashback app. TopCashBack shares 100% of its commissions with its members, unlike other cashback sites. You can earn money back with TopCashBack by shopping at your favorite stores and making purchases on their website. TopCashBack has no membership fees, and you will have access to thousands of stores. You will get paid via Paypal, bank transfer, or gift card. If you are not in the mood for cash, you can also choose to receive Amazon gift cards as your payment method.
If you don't want any more checks in the mail from your favorite retailers, then this might be an app you need! 
You can also earn $10 for every friend you refer (after they open an account and earn $10 themselves).
6.SwagBucks
Swagbucks is one of the best cashback apps out there. It's completely free and has many ways to earn points that can be redeemed for Amazon gift cards, PayPal cash, or even more gift cards. Swagbucks has paid over $327 million in cash back and gift cards to its members. To ensure you're always getting paid, there are two ways to earn points: through shopping and by completing offers. The latter is exactly what it sounds like—you get paid to watch videos, play games, and complete surveys. You can also get bonus points by installing the Swagbucks app on your phone and referring friends. If you're looking for an easy way to earn some extra cash without doing much work (or paying anything), this is definitely worth checking out!
7. Drop
Drop is a cashback app that gives you rewards when you shop at popular retailers. It's similar to other cashback apps like Groupon, where you get a percentage back on certain purchases. With Drop, however, there are no coupons or promo codes; instead, the money comes directly from the retailer in the form of gift cards. With Drop, you can earn reward points when spending money at one of its partners using one of your linked cards. Install the app, add a credit card, and then the app takes care of the rest.
Drop can be used with other cashback apps like Rakuten and Ebates. For example, if you have both Rakuten and Ebates accounts linked to your Drop account and make a purchase on Rakuten with your Drop card, all three of these sites will kick back some of their earnings to you! The only downside is that they tend not to give large amounts. If all three sites work together, then it could be worth having all three accounts open so long as they don't overlap too much (for example, one site gives 5% back while another offers 4%). You can also earn $5 by referring friends using your special referral code.
7.FreeBird
The Freebird app rewards you for riding Uber or Lyft, similar to Dosh and Drop. You can use Freebird to get cashback on rides to specific bars and restaurants in your area and combine it with discounts or credits from Lyft and Uber. All you need to do is link a credit card and book your ride. It gets its rates directly from Uber and Lyft, so your ride will cost the same, but you'll get cash back afterward.
8. Ibotta
Ibotta is a great cashback app for people who like to shop online and in stores. You can use Ibotta to save money on groceries, clothing, travel, etc. Ibotta works with many of your favorite brands, including Dollar General, Best Buy, and Walmart.
To get started with Ibotta, you'll need to download the app from either the Apple App Store or Google Play Store (for Android). Once you've downloaded the app and signed up for an account, it's time to start scanning products at checkout! When you're ready to buy something, just tap "Scan & Save" on your smartphone at checkout. Then take a photo of your receipt after shopping so you can submit your rebate forms later!
Once you find an offer you like, you can redeem it by,
scanning the receipt after shopping and uploading it
after shopping through one of Ibotta's partner apps
and connecting your store loyalty card to one of its partners
Also, Ibotta offers a $20 welcome bonus to new users after they redeem their first ten offers. Ibotta will also give you an extra $50 if five of your friends sign up using your referral code within your first month.
You can cash out your account once you have at least $20 in it via Venmo or Paypal or purchase a gift card via the app.
9. Paribus
Paribus helps you get money back when a store or company jacks up its prices. It's a great way to save money and automate your savings so you don't miss out on any opportunity. Paribus monitors prices at major retailers like Amazon, Target, and Walmart and at hotels that can be found on Expedia, Priceline, Booking.com, and other websites.
Just sign up for an account at paribus.com/signup with your email address (no credit card required). Once you've confirmed your email address, start tracking items by searching for the item you want to track on Amazon (or manually enter it), then click "start tracking this item." You'll see a list of merchants that sell that item—select the one from which you made your purchase and click "track." The next time something goes wrong with the price of that item at that merchant, Paribus will automatically file a claim for you! It won't cost anything unless they win the refund for you, making it free! The company has found over $29 million in savings for its users.
10.RetailMeNot
RetailMeNot has been around for years and is one of the most popular and well-known cashback sites, with over 2 million coupons and deals on offer. You can earn up to 25% back on your purchase, which adds up over time.
The site also offers coupon codes on top of its cashback deals so that you can save even more while shopping.
When browsing RetailMeNot's website or app, be sure to use the search feature before heading over to a specific retailer's page (this is especially helpful if you're looking for an item that isn't currently in stock). This way, you'll see all available discounts in one place without going through pages upon pages of products from different merchants.
RetailMeNot does not offer any signup bonuses or referral bonuses to new members.
11. Checkout 51
Checkout 51 is one of the best cashback apps and can help you save money on groceries. This app provides cashback deals at various major grocery stores and pharmacies. You just need to download the app and look for offers in your area to find current offers. 
 You can get cashback on Checkout 51 by uploading a photo of your receipt, and there are many different offers available at most major grocery store chains (including Walmart and Target). Remember that you can only use one receipt per offer, so if there are multiple items on your receipt with different barcodes, it may not work properly. You can also earn $5 for each person that signs up through your unique referral code.
12. FetchRewards
Fetch Rewards is a cashback app that can be used to earn points on grocery purchases, restaurant purchases, and shopping purchases. When you use the Fetch Rewards app to purchase at one of the partner stores (which include Amazon and eBay), you'll earn 10% of your purchase value back in points. The rewards are small – typically just $0.25 to $2.00 per offer – but you can redeem them for gift cards to clothing stores, tech stores, charities, and many other places.
The Fetch Rewards card costs $1.99 to buy online with free shipping, but you can get it mailed directly to your address if you prefer not to pay $1.99 upfront.
13.ShopKick
Shopkick is one of the best cashback apps because it's easy to use, available in many stores, and can save you money.
The Shopkick app is free, so you can download the app for free whether you have an iPhone or Android phone. You don't need any special hardware either; just a smartphone will do! The only requirement is that your device supports Bluetooth 4.0 LE technology (which most current phones support).
Using the Shopkick rewards program is simple: all you have to do is download their free app and then check into participating stores by scanning codes or entering them manually (by typing in numbers from store cards). 
Technically, You do not receive cashback for your purchases with ShopKick, but you can earn rewards points known as "kicks," which you can redeem for gift cards at Best Buy or American Eagle. The ShopKick website lets you earn kicks by shopping online at one of its partner stores or watching videos. ShopKick claims that most new users earn enough kicks in one week to get a gift card (250 kicks equal $1, 500 kicks equal $2, etc.). You can also earn extra kicks by referring friends.
14. Honey
Honey is a browser extension that automatically finds and applies coupon codes at checkout with a single click. It's like a digital coupon book for online shopping. Honey automatically finds coupons on more than 30,000 sites, saving you time and money. Simply sign up for free and install Honey on your computer.
Honey will search all available coupon codes and apply the best one to your cart when you shop. Never miss a deal again!
Although most famous for finding coupon codes, Honey also has a rewards program called Honey Gold. When you shop at one of the 4,500+ partner sites, you'll automatically earn "Gold." Once you have 900 Gold, you can redeem it for a gift card. Reward rates range from 0.1% up to a whopping 20%, but that's free money in your pocket either way. 
15. Upromise
The Upromise app is an excellent choice if you're looking for cash back on your purchases. You'll receive up to 8% cashback and bonus rates with partner stores. Plus, there are over 850 partner stores—including Walmart, Target, and more—to choose from! To top it off, it's free to join the Upto program and easy to use.
If you like shopping online or in-store at one of their partner stores, this app will help get you the best deals possible by providing cashback when you shop!
16. Rebates
Mr. Rebates is a cashback app that allows you to earn money back on purchases you already make. When you shop at over 50 different retailers, Mr. Rebates will pay you for your purchase with a percentage of the total price of what you bought. You can then use this money to get gift cards, cash-out directly into your PayPal account, and more!
Features of the best cashback apps
Among the many cashback apps available, you want one that offers the most valuable features to you. Check out these features when choosing the best cashback apps:
Rewards redemption options: Redeeming the rewards you've earned should be easy. You should look for apps that offer multiple redemption options. You should be able to request a check or receive the cashback through PayPal if you are awarded cashback.
Works at many stores:  The Best cashback apps work at many stores. You should select an app that you will use regularly and ensure that the list of retailers matches your preferences and shopping habits.
Low minimum redemption amount: It should be easy to withdraw your earnings quickly. Make sure that the app you choose has low redemption requirements so that you can get access to your money or redeem for gift cards as soon as possible.
Are cashback apps safe?
 Yes, It is safe to use the cashback reward apps since they protect your personal information and your cash/rewards in your account.
Usually, it collects some of your personal information, such as your demographics and internet usage.
Cashback reward apps generally do not record (or even see) your credit card or payment info, as the merchant handles these.
Cash Back Apps FAQ
Are cashback apps worth my time?
The answer is yes. You won't have to spend a lot of time, and you can save money on many of the purchases you make every day.
Do cash back apps work?
Yes, rewards apps are easy to earn money and get cash back for everyday purchases. Although the rewards and amount of cashback you can earn will vary, this is a simple way to earn extra money.
Just how much can you earn from cashback apps?
Depending on the store you're shopping at or the product you're purchasing, each app has its rewards rate. Most cashback apps allow you to earn at least 1%. Some even offer higher rewards rates, making it possible to earn even more. You will need to follow each app's instructions and use the app regularly when shopping to maximize your earning potential.