We shop for our daily needs every day. What if you could earn money while shopping? Times Club is a cashback and premium members app for Indians living in the USA. With times club, it's possible to receive up to 10% cashback from Indian and other American stores like Patel Brothers, Amazon, and Walmart. In this article, We'll look what is times club, times club signup bonus and referral bonus, times club review and how you can save money with timesclub.
What is Timesclub?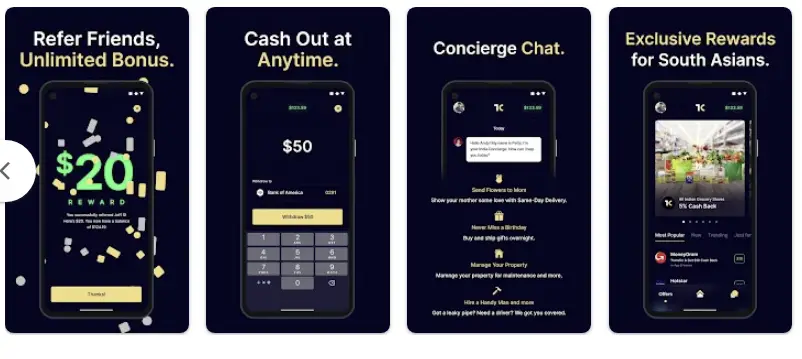 The Times Club is a free cashback app designed for Indians living in the USA but is available to other USA members. Timesclub members receive exclusive rewards, perks, and free subscriptions like willow, Gaana, etc. Timesclub is partnered with top brands like Patel Brothers, Amazon, Walmart, ESPN+, Booking, Gaana, Willow, and more! Where you can get up to 10% cashback. You can subscribe to Times club to earn amazing cashback rewards and a $20 signup bonus using promo code: ZECKFE.
Moreover, Members of the timesclub app have access to a premium 'India Concierge Service' that will help them manage errands in India.
How does TimesClub work?
The Times Club provides exclusive offers for Indian citizens living in the United States. You can also get free subscriptions and various cashback points and rewards. Many top brands in Times Club's partnership network include Walmart, Gaana, Willow, Disney Plus, Patel Brothers, Economic Times, Prime, and Remitly.
The following is a step-by-step guide that how timesclub works:
Times Club quite simple and easy to use. All one needs to do is link their credit or debit cards to the account. 
After that, you can shop at your favorite brands and earn rewards. Once this is done, you can withdraw your rewards and earnings directly into your linked bank account. 
As soon as you sign up for a Times Club Membership, you get instant access to premium subscriptions for Gaana+, Times Prime, Willow, and ET Prime.
You can withdraw your earnings directly to your bank account!
How to join TimesClub
Times Club is free to join, and no membership fee is required to access any of its benefits. It is easy and simple to sign up for the Times Club. Install the Times Club app and use the referral code "ZECKFE" for a 20$ bonus. 
Join times club using Android (times club apk)
Join times club using Iphone
Times Club Sign Up bonus.
Times Club is currently offering a $20 signup bonus. You must download the Times Club mobile app (Android & iOS) and enter code "ZECKFE" during registration. You'll earn an additional $5 once you link your bank account to track credit/debit purchases made on your phone. In addition to Times Club Offers, you can get premium membership at Gaana+, Willow, Economic Times, and other sites for free. Shop at your favorite brands to earn times club rewards.
Times Club referral bonus
Once you sign up, You can get a $20 Unlimited Referral bonus. Since this is a new app, you can make good referral money. Times club gives $20 per referral. You can refer up to 50 people and get $1,000 rewards. Rewards automatically will be added to your Times club account, and you can en-cash any time. After signing up for Times club, you will get your referral link. You can promote your link to friends, family, and other social media.
Here are the steps:
You need to sign up to the times club.
You will get your own referral link. 
You can Copy that referral link, or When sharing information through the app, you will receive the following message: "I'm inviting you to join Times Club, the exclusive club for Indians! Use my code ZECKFE to get a $20 bonus and check out hundreds of other premium offers & perks. https://ddl.timesclub.co/Iiw9/fa82590b "
Your friend must use the link and add the promo code during signup.
How do you cash out from Timesclub?
Once you reach $25 in your wallet, the cashback can be withdrawn to your linked bank account.
Is TimesClub legit?
Times Club is a premium app for Indians in the US that offers its members exclusive rewards, perks, and experiences. They are partnered with the top brands like Patel Brothers, ESPN+, Booking, Gaana, Willow, and much more to give you free subscriptions and amazing cashback rewards! Times club is one of the best cashback sites for NRIs, where you can get the best rewards and deals. 
How much Times club membership price is?
Timesclub is free to use but if you want to take pro membership then you need to pay $2.99 per month.
Times club app review
Pros:
Cons:
Conclusion: 
Timesclub is a simple site, and it delivers what it promises to its millions of users across India and the USA. With Timesclub, You can get help on any small or big job, including hiring a handyman. If your parents live in India and you need their services from the USA, you would need to spend a lot of money, but with Timesclub, the job is simple and cost-effective. The app and the website are both user-friendly and cost-effective. It provides excellent opportunities to earn additional money because of its highly competitive cashback programs. In my opinion, it is one of the best cashback sites for NRIs. If you have not subscribed to the times club yet, do it and start saving money.