Are you tired of feeling financially restricted and ready to take control of your finances? Look no further than Cash App – the ultimate money management app! "Cash App is the #1 finance app for money transfer that allows users to transfer money to one another using a mobile phone app. you can pay anyone instantly with Cash App. "You can also send, save, and invest money quickly and securely with Cash App. 
As a current cash app promotion, if you sign up using the promo code: CTCJLPG, you will get a $5 sign-up bonus. You can also earn an additional $5 referral bonus on every successful referral. There is no limit to how many people you can refer. You just need to help your friends and family to sign up using your promo code. 
So stay with us in this article; we will discuss what exactly the Cash app is, About Cash App promotion, its features, and much more. Let's get started-
What is Cash App?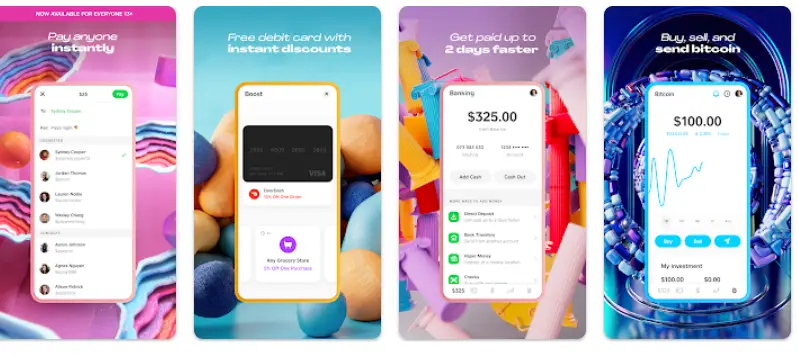 Cash App is a peer-to-peer payment app developed by Square, Inc. It enables users to send and receive money quickly and easily. It also offers a Cash Card, a Visa-branded debit card, as well as a feature to buy and sell Bitcoin. You can even invest in stocks and Bitcoin through the app.
Cash App Promotions 2023
Here are the current best Cash App promotions running on the platform for new users
 Cash App $5 sign-up bonus
 Cash App $5 Referral Bonus
Cash App Referral code 2023
Cash App $5 Sign-Up Bonus
Cash App gives new users a $5 bonus when they download the Cash App, register a new account, and send their first $5 within 14 days with a linked debit card. You'll need to use a current member's invitation link for the offer.
How To Claim a $5 Bonus
Download the Cash App.
Enter your phone number to register
Link your debit card to Cash App.
Open the app and tap the Settings icon at the top-left corner.
Scroll to the bottom of the Settings page and tap the "Invite Code" field.
Enter the invitation code "CTCJLPG" to apply your $5 bonus.
Send $5, either as a lump sum or multiple payments, within 14 days of entering the code.
Get your $5 bonus.
Cash App's $5 Referral Bonus
After signing up, you can earn more with the Cash App referral program. Cash App gives you and your referral a $5 bonus for every successful referral. There is no limit on the referral, so more invitation means more money.
 How To Earn a $5 Referral Bonus
Open the Cash App and tap on "Invite Friends."
Enter your friend's phone number or email to send them a referral.
Share your code via text, email, or with your social media audience.
Earn a $5 credit when your referral downloads the Cash App, connects a debit card, and sends $5 within 14 days.
There's no limit on how many referral bonuses you can earn.
Cash App features 
 Some of the features of Cash App are:  
Send and receive money: Cash App enables users to send and receive money from friends, family, and businesses instantly.  
ATM withdrawals: Cash App users can withdraw money from any ATM around the world with no fees.  
Investing: Cash App users can invest in stocks and ETFs with as little as $1.  
Cash Boosts: Cash App users can get instant discounts at select merchants when they use their Cash App card.  
Direct deposit: Users can set up direct deposit for their paycheck or other payments into their Cash App account.  
Cash App Rewards: Users can earn rewards by using their Cash App card at select merchants.  
Security: Cash App offers bank-level security to protect users' data and money.
Is Cash App legit and Safe?
Yes, Cash App is a legitimate and safe financial services application owned and operated by Square, Inc., a publicly traded company. Cash App uses cutting-edge encryption and fraud detection technology to make sure your data and money are secure. You can submit any information securely to our servers regardless of your Wi-Fi connection, data service (3G, 4G, or EDGE), or network type.
Conclusion: 
In conclusion, Cash App is a great tool for sending and receiving money, with fast and easy transfers and the option to invest and use a debit card. Additionally, you can earn a $5 Sign up bonus as a new user and a $5 referral bonus for every successful referral. You can use our promo code CTCJLPG to earn a $5 bonus. 
FAQ
Does Cash App offer a bonus when you sign up?
Yes, if you sign up using a Cash App referral code, you will receive a $5 bonus after sending $5 or more within 14 days.
How to get the free $20 on Cash App?
The first thing you need to do to earn a free $20 from Cash App is to refer a friend or family member. Once they sign up and send $5 inside the app, you will receive a $5 bonus. Finally, you will receive another $15 bonus when they send you that $5 back.
How do you get the $30 bonus on Cash App?
Cash App has no referral code for $30; however, you can earn $30 simply by sharing your referral code with two friends. Once both sign-up, you'll get $15 per friend, for a total of $30 in referral bonuses.