Upromise is the perfect solution for college students looking for money-saving opportunities. 
Upromise will automatically deposit your earned cash rewards into your linked account. It helps you earn cash back for shopping online, booking travel, dining out, trying new products and services, and doing other activities. 
You can avail Upromise promotions of $30.29 by signing up and an additional $25 referral bonus if someone join upromise using your referral link.
In this article, we'll tell you current Upromise promotions, rewards, deals and discount. Let's get started-
What is Upromise?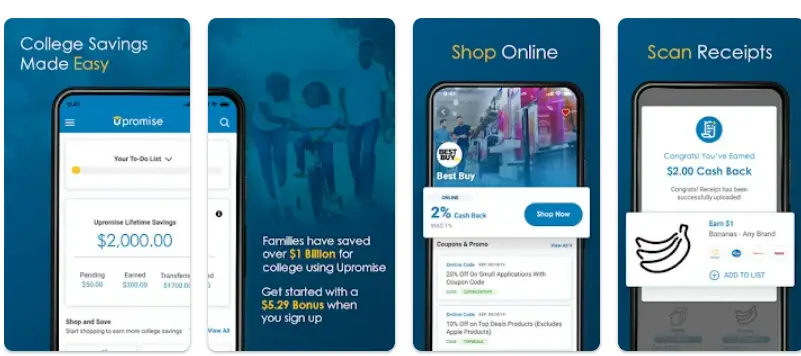 Upromise is a free platform that provides ways to save money on college expenses, and it helps you to earn cash back for shopping online, booking travel, dining out, and trying new products and services. Using the co-branded Upromise Mastercard Rewards credit card can earn you additional cash back.
You can also earn up to a $30.29 bonus when you open an account with Upromise. You will also receive $25 as a referral bonus if your friend signs up using your invitation link!
Upromise Promotions
Upromise Sign-up bonus: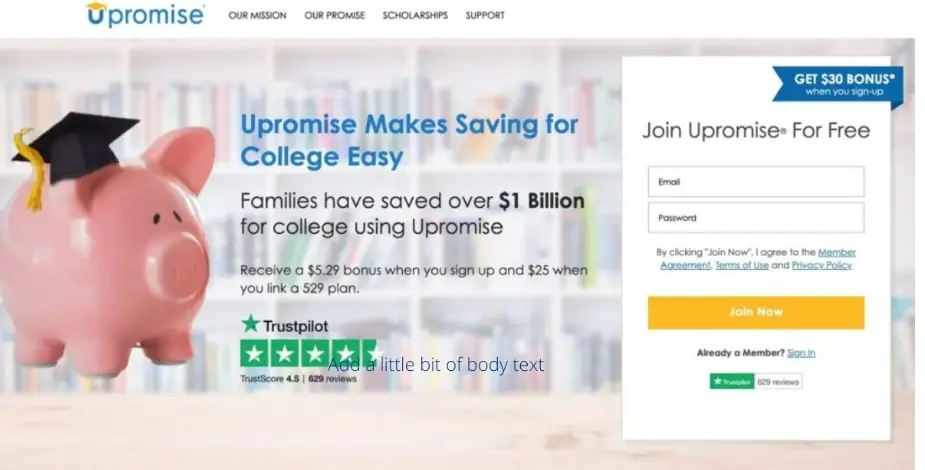 Upromise is currently offering a $30.29 sign-up bonus. You will get a $5.29 bonus when you sign up Upromise and $25 when you link a 529 plan. for joining Upromise that you won't want to miss. Here we'll tell you how to get a $30.29 sign-up bonus as a new user.
How to get a $30 Upromise sign-up bonus?
1. Open a new Upromise account via the Upromise promotional link.
2. Download the Upromise app or register online.
3. Enter your basic details and get verified. You will get a $5.29 bonus after completing this steps.
4. Open a free 529 college savings plan online.
5. Link this savings plan to the free Upromise rewards service portal and get a $25 bonus.
After completing the above process, you will get a $25 bonus and a separate $5.29 Upromise sign-up bonus. Your bonus will be displayed on your homepage.
Upromise referral bonus
Upromise is currently offering a $25 referral bonus to its users for every successful referral. You can earn a $25 Upromise referral bonus if you refer someone to join Upromise and they contribute at least $100 to their Upromise account.
How to get a $25 referral bonus?
Join Upromise and get your own personalized Upromise referral link.
Refer your friends and family to join Upromise through an email invitation or your personalized invite link!
To earn a $25 minimum cashback, invited users must create an account using your referral link and must reach $25 in qualified Rewards within 180 days following account sign-up.
Upromise will also pay a $30.29 bonus to person who opened account using your link and complete linking with 529 college savings plan.
Pros and Cons
Let's look at some of the pros and cons of using Upromise.
Pros:
Has plenty of partner stores you can shop from
Offers decent cashback rates
The app is very easy to use and navigate. 
Plenty of great features make saving your money simple, like automatic deposits into your Upromise account and progress tracking so you can see how much has been saved toward each goal throughout the year.
Cons:
Payment methods are tailored for education assistance and not really for earning extra cash like other cashback sites
It's not advisable to avail of cashback offers from your mobile device
Is Upromise legit?
Upromise is a legit cashback site that lets you earn rewards for shopping and will allow you to earn back a percentage of the amount you spend in their partner stores. 
They've partnered with more than 400 companies worldwide to bring you savings on purchases of just about anything.
Their main goal is to help families save money for college by offering cash back on purchases made through their website or mobile app. They have partnered with American Express Open Savings™ and Fidelity® Rewards Visa Signature® Credit Card to give users an additional 5% off every purchase made through their site or app with these cards (up to $5 per month).
Conclusion
Overall, Upromise is a great platform to earn cash back for shopping online and booking travel. You can also get a $30.29 sign-up bonus when you first link your eligible 529 college savings plan account to Upromise and refer friends to join this platform through the referral program.