As the gig economy grows, owning a car is an excellent way to make money on your own schedule and be your own boss. There are so many companies out there that want your help getting packages from Point A to Point B or just moving people around town. In fact, there are so many gig economy apps that pay you to drive your own car.
So, we're going to show you how to get paid to drive in the gig economy with our list of the best apps that pay drivers:
7 Best Apps That Pay To Drive 
The following are some of the best-known apps that pay you to drive.
1. Lyft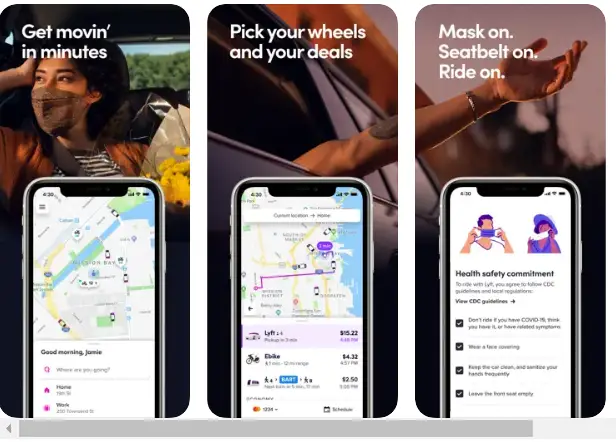 Lyft is a rideshare app that allows you to earn money by driving your own car. It is one of the best apps to make money. It provides you with a reliable income. Using Lyft, you can make money, keep your tips, and take your earnings whenever you like. You can be your own boss and drive whenever it suits you. You will get paid instantly and can take your earnings wherever you like. More than 350 cities across the U.S. and Toronto are currently home to Lyft.
2. Uber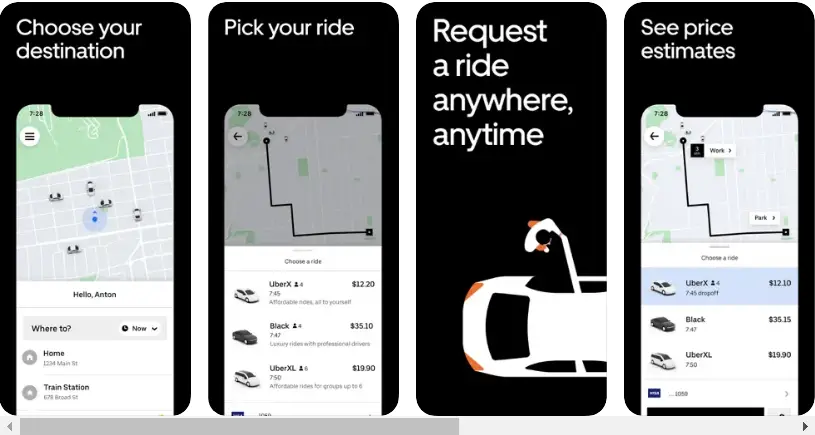 Uber is one of the most popular ridesharing apps that allow passengers to hail a ride and drivers to charge fares and get paid. With Uber, you can set your own hours and work whenever you want. You can also make between $8.55 and $11.77 per hour with Uber. 
With Uber, users request a ride on their smartphone, and drivers nearby receive the request through the app and can choose whether or not to accept it (similar to Lyft). Once a driver accepts the request, they head over to pick up their passenger(s) and take them wherever they need to go within an allotted time frame (15 minutes). 
Drivers are paid based on mileage plus incentives like tips from passengers, who rate each trip afterward using a five-star system. It's worth noting that this opportunity isn't only for professionals—anyone with access to a vehicle (or bicycle!) will be able to complete trips with Uber as long as they meet certain requirements, such as passing background checks before getting started in order ensure safe travel experiences between riders/drivers alike!
3. Postmates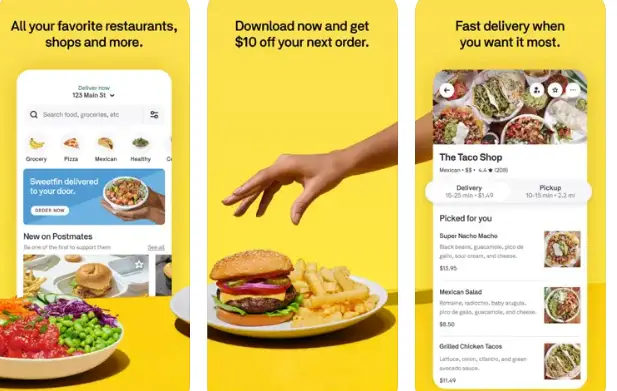 Postmates is a delivery app that pays you to pick up and deliver food and other items. You can choose your own hours with this job, making it a great option for those who are looking for flexible work. 
You can earn up to $25 per hour, according to Postmates, which is more than many private employers pay. You also stand to make more if you work extra hours than other drivers or work during peak hours with Blitz pricing. The pay isn't the greatest, but it's still a decent side hustle.
4.DoorDash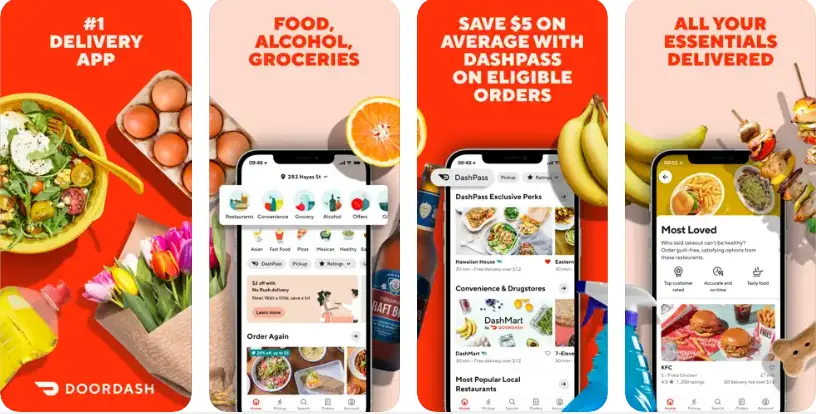 DoorDash is a food delivery service that pays you to deliver food from local restaurants. DoorDash drivers are independent contractors who use their own cars to deliver orders.
DoorDash drivers use the DoorDash app to track orders, accepting deliveries, and communicate with customers. Most doordash drivers' average earnings are between $15 and $25 per hour. Drivers are paid a set delivery fee, but the hourly wage can be calculated from the total of the fees and the time period that is worked. The app also has features for navigation and customer support.
5. Amazon Flex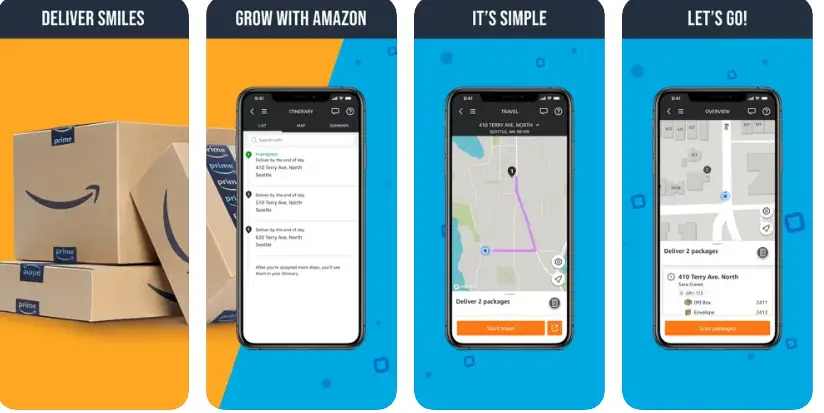 Amazon Flex is an app that allows you to deliver Amazon packages in your own vehicle. Drivers can earn up to $25 per hour, and they are paid every week. 
A valid U.S. driver's license and a mid-size or larger vehicle are prerequisites in order to be eligible to work with Flex. You don't have to commit to a certain number of hours; you can sign up for shifts of as little as one hour.
6. Instacart
Instacart is a grocery delivery service that allows customers to order groceries online, deliver them directly to their doors, and pay for the service through the app. Instacart shoppers go out into stores, pick up the items on each customer's list and deliver them to that customer's door. 
To get started, you'll need an Android phone or iPhone running iOS 10+ with location services enabled and access to a vehicle with enough space in it for all your bags of food. You can also use your own personal bike or scooter as long as it has a rack attached that can hold up to five pounds per bag (the maximum weight allowed). 
You'll also need access to reliable transportation since you'll be going home after each trip, so you don't get stuck without rides back home or stuck at some random spot trying not to get run over by cars while waiting for another opportunity to move again. With Instacart, you can earn approximately $15 to $20 per hour. However, earnings depend on your market, how many batches you get, how much batches pay, and your shopping speed.
7. Roadie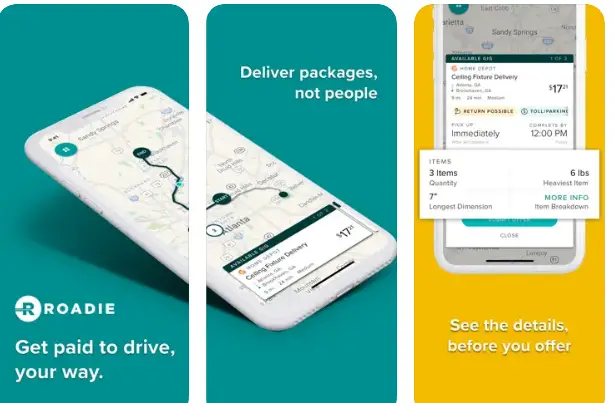 This is a great way for people with trucks to make extra cash. Roadie gives you the opportunity to pick up and deliver packages and even move furniture, all while making a few dollars on the side. 
The Roadie app connects drivers with senders to make deliveries happen. Senders create delivery gigs that are sent as alerts to nearby Roadie app drivers. Drivers can look at the gigs and submit offers for those they find worthwhile, ideally those that align with their routes and schedule.
Roadie claims drivers can make an average of $15 per trip for local deliveries (with most gigs paying between $8 and $50) and up to $650 on long trips carrying oversized items. From my experience, the people who use Roadie are generally very nice and appreciate your help – so it's a win-win situation!
Conclusion
If you want to make some extra cash and have a car, these gig economy apps that pay you to drive your own car (and actually keep 100% of the earnings!) are definitely worth checking out. They're also great options if you need work flexibility or need a side hustle to supplement another job. Each of them has its own pros and cons, but they all offer something different, so you must do your research before signing up with one over another.