If you're a parent looking for a reliable, secure, and easy-to-use banking solution for your kids? Look no further than Gohenry! Gohenry is a prepaid debit card and app designed specifically for kids between the ages of six and eighteen. It's a great way to help your children learn about money management, budgeting, and savings while also giving them a sense of independence. With Gohenry, your children can learn about how to save money, make money and investing while having fun at the same time.
In addition, you can also get started with GoHenry and earn a $30 Gohenry sign-up bonus to open an account using a unique promo code. You can also earn an extra $30 referral bonus with the GoHenry Referral program. 
If you wish to join, use this GoHenry referral code "RETNE" (or use this link) and claim a $30 GoHenry sign-up bonus and a 1-month free trial. 
So stay with us; in this article, we'll take a closer look at What exactly Gohenry is, about GoHenry sign-up bonus, including steps to claim GoHenry sign-up bonus and referral bonus, its features, whether it's legit or not, and much more, so you can decide whether it's worth trying out. Let's get started-
Also make sure not to miss out on $30.29 sign up bonus with Upromise if you're a college student. Read our Upromise promotion to claim $30.29 sign-up bonus.
What is GoHenry?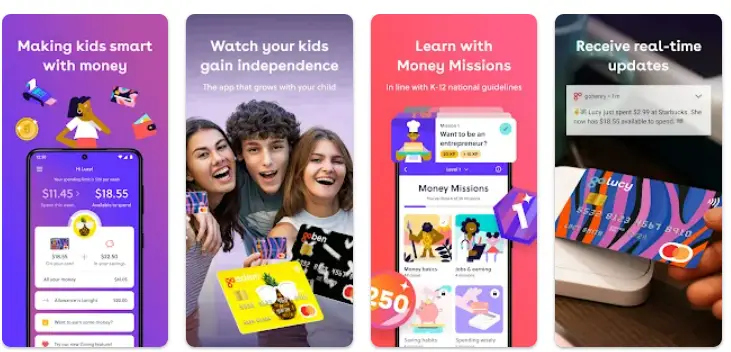 GoHenry is a UK-based fintech company that offers a prepaid debit card and financial app for kids aged 6 to 18. Parents can sign up for an account, add their kids as users, and then monitor their spending and teach them about financial responsibility.
The GoHenry card is a prepaid card that can be used anywhere that Mastercard is accepted. Parents can set spending limits, assign chores to earn money, and even block certain merchants if they don't want their kids spending money on certain things.
The app provides real-time notifications for each transaction and allows parents to set up automatic allowance payments. Kids can also set savings goals and learn about money management, budgeting and financial freedom in a fun and engaging way.
How does GoHenry work?
GoHenry works by providing parents with a prepaid card for their child, which is linked to a parent's account. The parent can then set a weekly or monthly allowance for their child, and decide how much they can spend and where they can spend it.
With GoHenry, you can prevent common money wasters like impulse purchases or overspending on non-essential items. The child can only use the prepaid card to make purchases or withdraw cash from ATMs, while staying within the limits set by the parent.
GoHenry Promotions
Here are the current best GoHenry promotions running on the platform for new users:
GoHenry Sign-Up Bonus: $30 Welcome Bonus
GoHenry Referral Bonus: Give $30 Get $30
GoHenry Sign-Up Bonus: $30 Welcome Bonus
GoHenry is offering a $30 sign up bonus to new users when they open a new parent account using a unique referral code and activate a card. You'll also get a free month's trial when you sign up as a new customer.
How To Claim GoHenry Sign Up Bonus?
Download the Gohenry app or visit this official GoHenry link.
Go to the sign-up section and register for an account.
Fill out the required information including your name, email, and mobile number.
 After that, enter your child's information and other details.
Activate your GoHenry Debit card once the account is opened.
After completing all the requirements, you will receive a $30 GoHenry sign-up bonus.
GoHenry Referral Bonus: Give $30 Get $30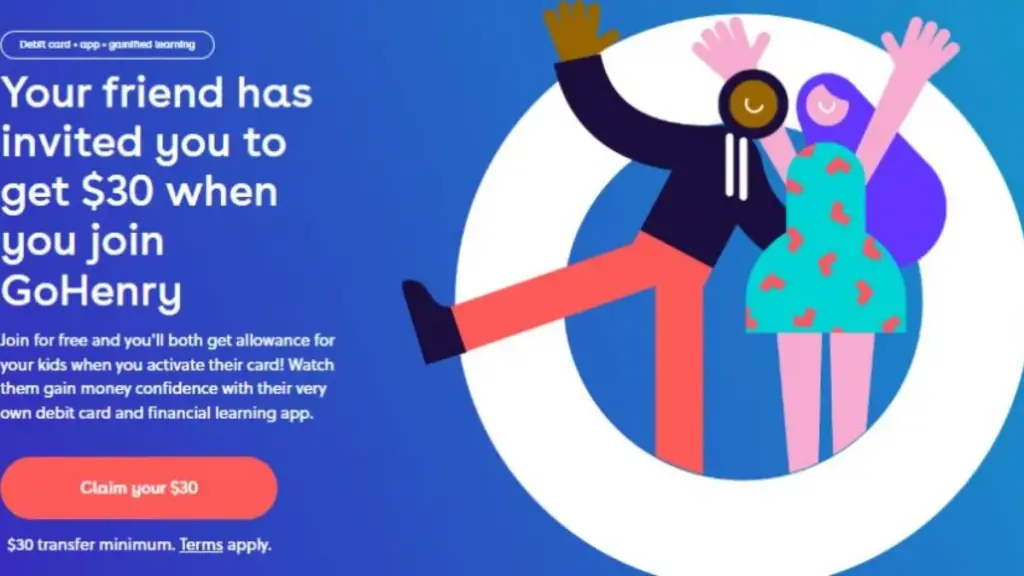 After you join GoHenry, you can earn an extra $30 referral bonus with the GoHnry referral program. Invite your friends and family to open an account with your unique referral link and once your friend joins with your link, and activates their card you'll receive a $30 GoHenry referral bonus.
Steps to Claim GoHenry Referral Bonus
Sign in to your GoHenry account.
Go to your Invite Friends section to get your unique referral link.
Copy your unique GoHenry referral link and share your link with your friends and family.
Both you and your referral will receive a $30 referral bonus when your referral joins and activates their card.
GoHenry Fees
GoHenry's subscription fee is $9.98 per family, with up to four children, and $4.99 for each additional child. New users can access the platform without paying a monthly fee for their first month. From the second month onwards, the membership fee will be charged to the parent account or the associated cash card. Other fees include a foreign transaction fee of 2.75% and an international ATM withdrawal fee of $2.
Key Features of GoHenry
Parental Control
One of the key features of gohenry is that it provides parents with full control over their children's spending. Parents can set spending limits, block certain merchants, and even receive notifications when their child spends money.
Real-time transaction tracking
Gohenry also provides real-time transaction tracking, which means that parents can monitor their child's spending activity as it happens. This feature helps parents to identify any fraudulent or unauthorized transactions.
Savings Goals
Gohenry also offers a savings goal feature, which encourages children to save money towards a specific goal. This feature helps children to learn about goal setting, budgeting, and delayed gratification. So whether you're a broke college student or a financially savvy parent, consider Gohenry to help your child learn about money management.
Financial Education
Gohenry offers financial education resources, including online articles, quizzes, and videos. These resources are designed to help children learn about budgeting, saving, and spending responsibly. And if you're looking for even more resources to help your child learn about money, be sure to check out our recommended list of the best books on making money!
Safety and Security
Gohenry offers a safe and secure way for children to learn about financial responsibility. The app is protected by industry-standard security features, such as two-factor authentication, encryption, and fraud monitoring.
Convenience
Gohenry is a convenient way for parents to manage their children's allowances and spending. The app eliminates the need for cash, which can be lost or stolen, and provides real-time updates on spending activity.
Financial Responsibility
Gohenry encourages children to develop financial responsibility and money management skills at a young age. These skills will help them to make informed financial decisions in the future. In addition, for those interested in maximizing their savings, we also recommends exploring the best cashback apps available.
Is GoHenry Legit?
Yes, GoHenry is a legitimate company that offers a debit card and financial app for children and young people. It is authorized and regulated by the Financial Conduct Authority and is also a member of the Financial Ombudsman Service.
Is GoHenry safe and secure?
Yes, GoHenry is a safe and secure platform. Gohenry app has 256-bit encryption, which means that all your details are stored securely. All of its transactions are also protected by the latest security protocols, and the site is regularly monitored to ensure that the data of its users are kept safe. Additionally, GoHenry is regulated by the Financial Conduct Authority, which ensures that its financial services are safe and secure. In the unlikely event of a lost or stolen card, parents can instantly freeze the account from the app to prevent any unauthorized transactions.
Conclusion
In conclusion, Gohenry is a great solution for parents looking to give their children financial independence while maintaining control over their spending. And with the $30 GoHenry sign-up bonus and referral bonus currently available, there's never been a better time to create a Gohenry account.
By following the tips outlined in this article, you can make the most of your new Gohenry account and help your child learn valuable financial skills. So what are you waiting for? Sign up today and claim your bonus! Additionally, if you're interested in investing, you can learn how to invest $100 to make $1000 a day.
FAQ
How much is the GoHenry sign-up bonus?
GoHenry offers a $30 Welcome Bonus to its new users when they open a new account using a unique referral link and activate the card.
Is GoHenry free?
No, GoHenry is not free. GoHenry is a subscription-based service, with a monthly membership fee of just $4.99 per child. 
How do I activate my GoHenry Debit Card? 
To activate your GoHenry debit card, you will need to log into the GoHenry parent app. Once you are logged in, click on the "Activate card" button. Enter your child's details and tap on the "Continue" button. You will then need to enter the last four digits of your card and set some parental control. Once you are finished, click the "Activate" button, and your child's card will be ready to use.
What are some of the best Gohenry-free alternatives?
The best GoHenry alternatives are Revoult, Greenlight app, and Step Mobile RoosterMoney. These apps also have features such as setting spending limits, tracking transactions, and setting up automatic allowance transfers. They also allow parents to easily transfer funds and send messages to their kids. 
Is GoHenry safe for children to use?
Yes, GoHenry is safe for children to use, as it provides parents with the ability to set spending limits and monitor their child's spending in real time.
What happens after the one-month free trial period with the Gohenry sign-up bonus?
After the one-month free trial period with the Gohenry sign-up bonus, you will be automatically enrolled in the Gohenry service and charged the monthly subscription fee. If you do not wish to continue using the service, you can cancel your account at any time before the end of the free trial period to avoid being charged.