Almost 3 million applications are available on Android, from games to productivity apps; you will find everything from the best budget app for Android to some simply bizarre ones. Since you can get pretty much anything on the Play Store, finding the best apps can be challenging. The same might be said about budget apps, which are essential for managing your finances. So how do you choose the best? Don't worry; we've got you covered. Here are 9 Good Free Budgeting Apps For Android on the Google Play Store. Considering that Google personally handpicked these apps, you can trust them to be the best. Find out more about these apps by reading on.
9 Good Free Budgeting Apps for Android
Mint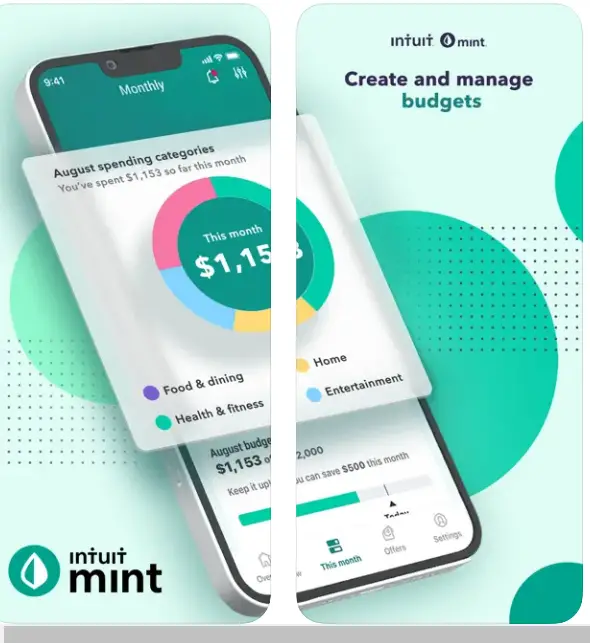 It is one of the most popular apps for keeping track of your finances. The ability to track your finances down to the last detail gives you granular control over your finances. You can keep track of your bank accounts, credit cards, and investments, so you can have a complete picture of your finances. The app will help you figure out where to save and spend money. A budget app is always a necessity for people, in my opinion. It will be easy to understand where you stand financially, and you can even check your credit score.
Because your calendar is synced with the app, your bills will appear on your calendar, reminding you of upcoming payments. Over 10 million people have installed it, so it's very popular. Furthermore, the app developers are constantly adding new features to enhance its functionality based on positive reviews. Given the kind of functionality it offers, it's a major plus that it's free.
Spendee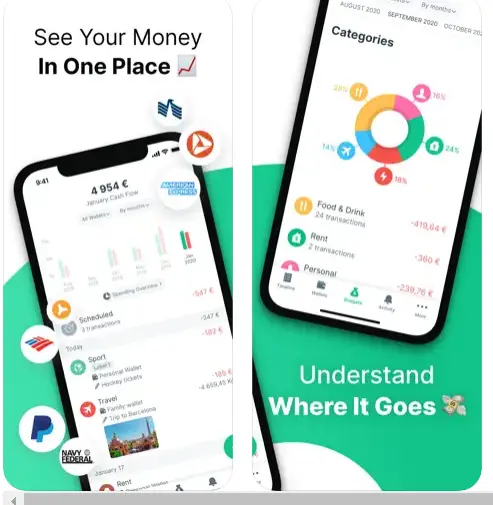 Spendee is another budget tracker that helps you keep track of your spending. In addition, it's an amazing expense tracker, which helps you understand where your money has gone. Moreover, the app comes with customized wallets for special occasions such as weddings, birthdays, and anniversaries.
As a result, your primary wallet won't be affected, so you can keep them separate. There are some neat infographics on board that will help you understand your financial situation better. A major advantage of this app is that you can pay in different currencies, which is very helpful if you plan to travel abroad.
You can share accounts with your family and see how the people around you spend their money. Spendee is a very useful budget and expense tracking application and another viable option to check out if you need one. You can rest assured that your private information is secured as the data is synchronized securely.
It's a popular app with almost 1 million installs on the Google Play Store. The icing on the cake is that users can download the app free. There are several in-app purchases in this app, which is how it generates revenue for the developer. There's no requirement for continued usage, so those looking to use it for free don't have to worry about it.
EveryDollar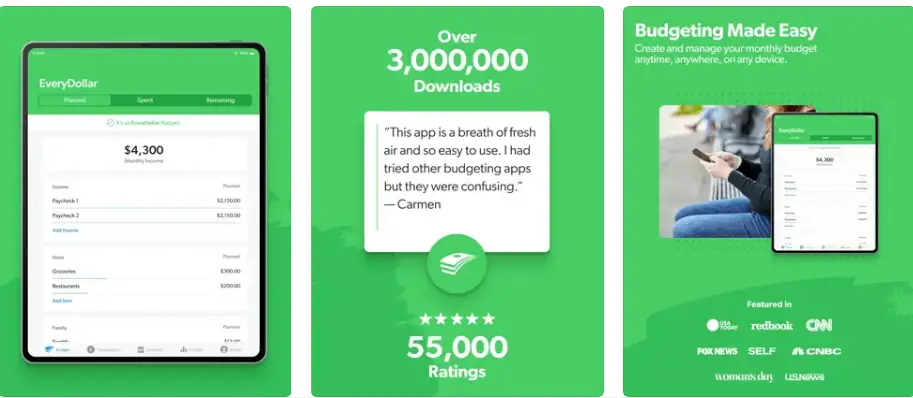 Ramsey Solutions' EveryDollar is one of the best budgeting tools available today. You can create your budget in just a few minutes by downloading it for Android. With EveryDollar, you can do your budget in a fraction of the time. After inserting your basic information, EveryDollar carries that information each month, so you just have to make small adjustments.
You're accounting for every dollar in this app, called the "zero-based budgeting approach." A subscription fee adds cool features like connecting with your bank and allocating transactions to different budget categories. Since EveryDollar is free, it's worth a shot.
Clarity Money

Our next stop is Clarity Money, the budgeting app that shares your financial journey with you. Clarity Money offers all the budgeting tools you would expect from an app – you can plan your budget, track expenses, track your credit score, and monitor spending by category and merchant.
With Clarity Money, you can view and manage transactions by connecting to your bank account. It can cancel subscriptions for you as well. Simply tap the cancellation button when you open Clarity Money, and you'll be able to cancel all your monthly subscriptions.
Wallet Budget Money Tracker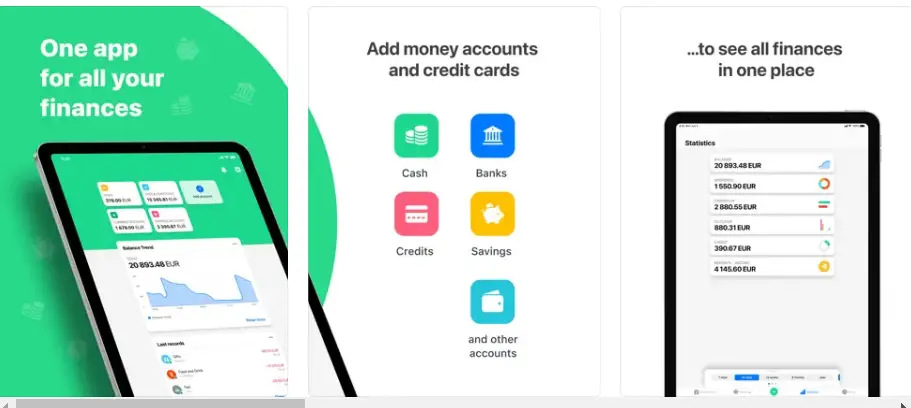 The wallet has been designed with a lot of thought by its developers, opting for a simpler name. It supports Android 4.1 and up, which covers many devices currently in use. On the Play Store, it has already been downloaded about 5 million times, which is pretty decent for an app of its type. It's easy to track your expenses here, and you're given a detailed description of your expenditures in the past.
With the app, you can link your bank account, and some banks even offer real-time synchronization, so you can keep track of your finances in real-time.
The wallet app features an easy-to-use interface and is quite useful. Your wallet will also sync up with your budget to suggest how to achieve your financial goals. Travelers will find the app convenient since it supports multiple currencies.
Budget apps have similar core features, and developers can only innovate onboard features and the appearance of their applications. You can download the best budget app for Android for free from the Play Store, and we recommend you try it immediately.
Mvelopes Budget App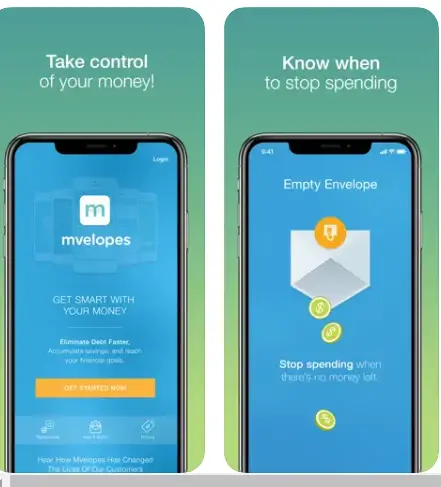 Several experts have rated Mvelopes as a great app for all Android users. NASDAQ has also rated this app, so you know it's great. The app lets you easily monitor your finances and import your bank and credit card details. You can also check your finances from a desktop browser using the Mvelopes web app, which syncs all your finances easily. The app will find some helpful ebooks and videos that offer tips on saving money and handling your finances better.
I like how this app lists financial transactions in an inbox-style format on top of each other. As a result, you will be able to get a very good sense of your past transactions. Even though it's a small feature, it's useful.
This app can be downloaded for free from the Google Play Store. Play Store listing doesn't specify the minimum requirements for the app, but it is compatible with several Android versions. The app supports in-app purchases.
Penny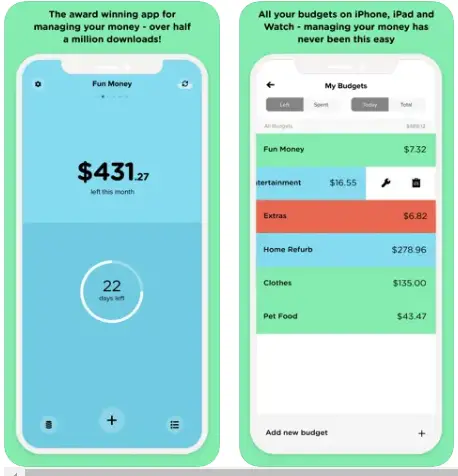 It is an interactive app that helps you track your finances and have fun simultaneously. Since its launch, The New York Times, Forbes, and TIME have featured the app, which has some market traction. Despite being a free application, the app's popularity is a testament to its features. A very decent feature of the app is that it provides a detailed breakdown of your expenses and automatically categorizes them. You'll be able to see where you shop and frequently eat after a few days of using the app.
Your account will automatically be notified if the bank charges an extra fee. Most bank fees in our accounts go unnoticed, which is a crucial feature. A special mention should also be made of the security features built into the app. It claims that industry veterans developed the app, so users can be assured of the best security possible.
Additionally, the app will remind you when an account payment is due, saving you from embarrassment in the future. You can download the app free, so try it out immediately. Using just one budget app on your phone is best since managing your finances in multiple apps can be tedious. Android 4.4 KitKat or higher is required to run the best budget app for Android.
Honeydue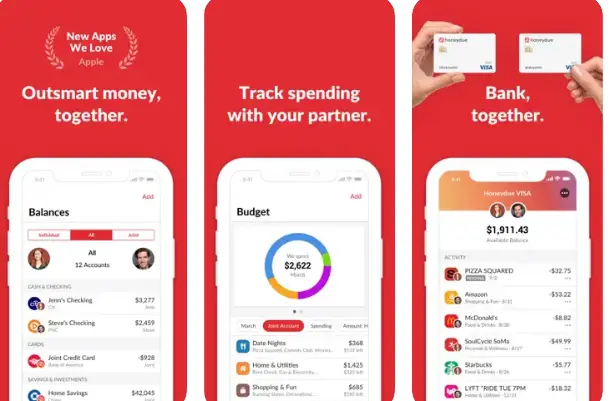 Honeydue is an application that allows both you and your partner to have access to your financial information at the same time. (Although you can choose how much you share with your significant other.) and other.) bank accounts, credit cards, loans, and investments can be synchronized between partners.
The free budget app has automatic expense categories, but you can also create your own. You and your partner can set monthly limits on each category, and Honeydue will notify you when you reach them.
You can also chat, send emojis with Honeydue and receive reminders for upcoming bills.
It focuses more on reflecting on past transactions than planning expenses in advance, like a few other apps on our list. It is completely free of cost.
Personal Capital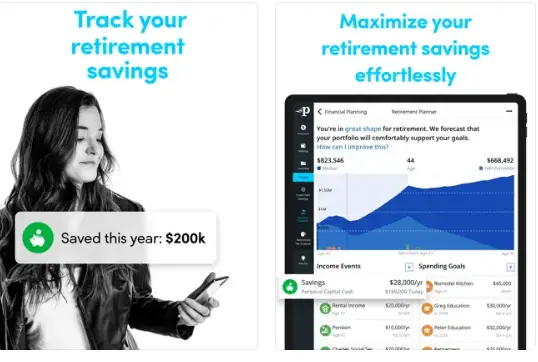 Although Personal Capital is primarily an investment tool, its free app includes features helpful to budgeters.
By listing recent transactions by category, the app provides a snapshot of the recent spending. IRAs, 401(k)s, mortgages, and loans can be linked and monitored, as well as checking, savings, and credit cards. Those categories can be customized, and see what percentage of your total monthly spending each represents.
You can also track your net worth and portfolio with Personal Capital. You can access the app both on your phone and on your desktop.
You may want to take a different approach to planning your spending and saving. You can download this app for free. Despite its budgeting tools, its investment tools make it stand out. Other apps offer more detailed budgeting options. 
Conclusion
Budgets are extremely important, and we cannot emphasize that enough. You can stop the leaks or holes in your budget by creating a monthly budget, and you will be able to spend money only on what you need. As well as saving for an emergency fund, this is a great way to start putting money aside.
It is also extremely liberating to have a budget. If you have allocated money, you will not feel stressed about spending too much in one category during the month. You will not feel stressed about spending too much in one area during the month because you have already allocated money. Your spending will be just right, but you won't go over your budget.
It is now easier than ever to budget with apps like one of the above.