Almost everyone loves to receive cashback and save money on their purchases. Even if you shop only for holidays, why not get cashback? 
 But a little red flag goes up in your head whenever you hear the phrase 'free money.' And it should because it prevents us from being scammed. But sometimes, there are businesses out there that can help you save or earn money by using their services. Rakuten is a company that provides you with exactly that, with some extra features.
In this Rakuten Review, we "ll tell you what exactly Rakuten is, how it works, its fees, features, and much more. So let's get started.
What is Rakuten?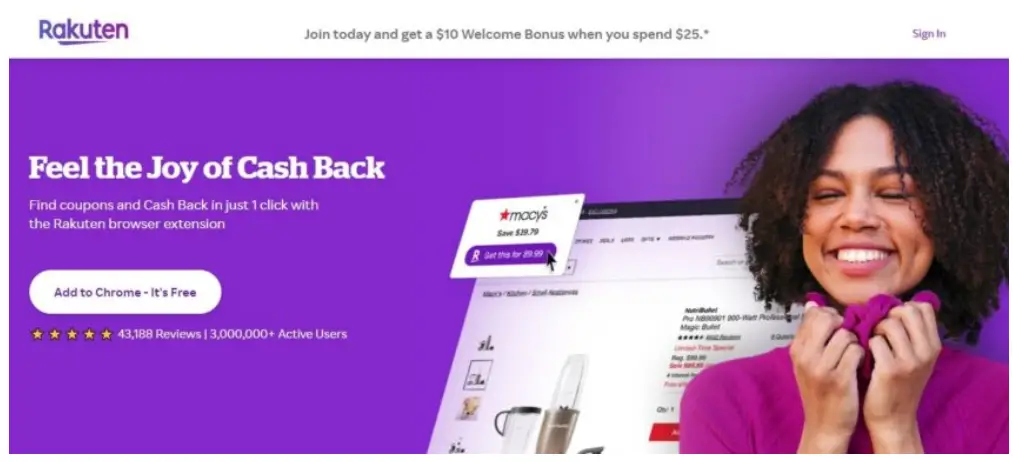 As previously known as Ebates, Rakuten is a cashback site that rewards you for using their browser extension or making purchases through their website. Members can access links to their favorite online stores and marketplaces through the Rakuten app or website. Customers of these stores pay Rakuten a customer referral fee for their referrals. Rakuten then pays you a portion of this merchant payment. In other words, you earn cashback. When you shop with this innovative affiliate marketing platform and site, you are allowed to receive a refund of your money. In addition to getting paid for buying household cleaning products, you get paid for holiday gifts as a Rakuten member.
How does Rakuten work?

Getting started with Rakuten is a piece of cake. First, Visit the Rakuten website and click the 'Join Now' button to create an account. 
The next step is to agree to their Terms & Conditions, and you are part of the team! You can sign up using the email address and password you created. The other way to sign up is by using your Facebook or Google account. After signing up for a Rakuten account, you find the name of the store(s) you wish to shop once you log in using your member login.
 Then all you have to do is shop via a link through Rakuten.com and choose the store before making any purchase. However, keep in mind that you won't earn Rakuten cashback if you go back to the shopping site directly without clicking the link.
Each store link will show you the percentage of cash back you'll earn after the purchase.
Furthermore, the Rakuten cashback percentage varies depending on the store and the things you buy.
For example, one store can offer you 3% back on regular purchases and 20% back on home products.
Depending on store deals and offers, the cashback percentage can also change from time to time. Sometimes, the store can even offer double cash back!
Just click the 'Double Cashback Stores' button in the main menu bar to find these fantastic deals.
Finally, if you wonder how giving you cashback is payable to Rakuten, it is. Each store they collaborate with gives them money for referring you to buy with them.
This way, it is a win-win situation for the company, the store, and you.
Some of the names that find Rakuten excellent to collaborate with are Walmart, Nike, Macy's, Kohl's, Lowe's, etc. They also work with several travel sites such as Qatar Airlines, Expedia, Air France, British Airways, Booking.com, Marriot Hotels & Resorts, TripAdvisor Hotels, etc.
Rakuten current promotion
Rakuten $10 sign up bonus
Rakuten is currently offering a $10 cash bonus for signing up its new users. To qualify for a welcome bonus, you will need to make a minimum purchase of at least $25 within 90 days of becoming a member.
Rakuten $5 referral bonus
Rakuten is currently offering a referral program where you can also earn some cash. The company will pay you $5 per person that you refer.
The only condition is they sign up via your referral link and use Rakuten at least once to buy something over $25. Another win-win situation.
Refer as many friends as you want. The more, the merrier!
Rakuten Review: Pros and Cons
Pros
No hidden fees to download or to use.
Easy to use
 you can earn money by referring others
They have a huge number of retailers, so it's likely you can get cash back from them
You can get money back on purchases that you would have made anyway
Low payment threshold ($5)
Cons
You won't get any cash back if you return the item
It is no longer available to EU countries
Few stores offer in-store shopping offers
Other rewards apps may offer higher cashback rates
 Rakuten Features
One of the biggest reasons to use Rakuten is its various features. These include:
Browser Extension
Rakuten's browser extension is perhaps its most helpful feature. You won't need to navigate to Rakuten to complete all your online purchases with their browser extension. It eliminates that step.
When you download the browser extension, Rakuten can detect when you're on a retail partner's web. They'll display a popup to let you know if you're eligible for cashback rewards. That way, you just have to click a button to earn cashback.
In-Store Shopping
At a retail partner's physical store? No problem.
In-store cashback purchases are also available through Rakuten. You can activate your in-store offer through either their website or their app. To track your purchases, the system needs to link your credit card.
Rakuten will receive confirmation from the retailer once you complete your purchase. Please be patient, as the retailer may take hours or days to confirm your purchase. Once the retailer confirms the purchase, the cashback will appear in your account.
In-store offers are valid only for one purchase, so you will have to reactivate them when you make another in-store purchase. In-store shopping can be more complicated than online shopping, but it's still a way to earn cashback. 
Mobile app for smartphone
Rakuten has an app for your smartphone, which allows you to find items in real-time on the go.
Rakuten pricing and fees
It is entirely free to use Rakuten. No fees, no hidden costs. Because retailers pay Rakuten upfront to refer their customers to their stores, it doesn't charge consumers for the service. You don't care about how much you pay with Rakuten; you care what you get in return. Rakuten's retail partners offer varying amounts of cashback. Consumers can earn anywhere between 1% and 40%. Cashback percentages vary by retailer and product.
Target, for example, may offer 1-5% cashback on overall purchases but 20% cashback on the home and garden products they sell, meaning that you would get more cashback when you purchase gardening products through them.
Is Rakuten legit
 Rakuten is defineitely a legitmate company. It gives you free money while purchasing your usual goods. Almost everyone can earn some cash back with more than 2,500 stores and companies.
Currently, Rakuten is rated an A+ by the Better Business Bureau (BBB). Over 10 million members are enrolled in the cashback program at Rakuten. With over $800 million in cashback payments, Rakuten continues to receive hundreds of excellent BBB customer testimonials. The Rakuten website says the company has a dedicated, concerned, and top-notch staff.
Is Rakuten safe?
Aside from its no-payment policy, Rakuten is an extremely safe and secure website. They only ask you for an active email address to use their services, which is fine.
Rakuten has been certified as compliant with the Payment Card Industry Security Standards Council (PCI) in cybersecurity. They're a governing body that sufficiently ensures sites encrypt sensitive data, such as credit card numbers.
While Rakuten is very candid about how they use your information, you might want to read the fine print. Rakuten admits to using location tracking to collect marketing data that they then sell to third parties.
Even though you can opt out of tracking, this may limit some features. Collecting and selling marketing data has become standard practice today, but it's something to keep in mind if you're concerned about how companies use data.
Is Rakuten worth it?
The Rakuten app is one of the best rewards shopping apps. If they offer cash back at the online stores or local stores you shop at often, it's well worth using. 
For a hassle-free experience, you can use the browser extension and mobile app. While you must activate a shopping session to receive credit, they can provide a hassle-free solution.
This app is also worth considering since you only need a $5.01 rewards balance to receive payment via PayPal or check. 
Among similar apps, Rakuten has a Trustpilot rating of 4.4 out of 5 based on these factors and the ease of use.
Conclusion
 Rakuten is a legitimate and easy way to earn cashback on purchasing products you usually buy. Even if you don't do a lot of retail shopping, you can still save money and earn some cash.
Like any other platform, Rakuten also has several benefits and disadvantages. It doesn't cost any money to sign up (you will even get a welcome bonus!), so it's worth the try. The best part about it is earning cashback regularly by buying everyday products. Its low redemption thresholds and cash rewards options also make cashing out easy, regardless of whether you're a frequent online shopper or not.