Getting cash back on your daily purchases can be a great way to save, especially if they're items you'd buy anyway. You can find many cashback sites that will reward you for online shopping. One of these is RebatesMe. It provides a discount on every item you purchase through their site. You can also earn a $10 RebatesMe sign up bonus and a $10 referral bonus with RebatesMe. This article discusses the RebatesMe sign up bonus, how it works and what else is in store for you by joining this cashback site.
What is RebatesMe
RebatesMe is a cashback site that offers deals, cashback, and discounts on products and services from over 4,000 stores worldwide. You can use RebatesMe to earn cash back on your purchases, whether you're shopping online or offline. RebatesMe was launched in 2013 and has since acquired more than 5 million users who have earned more than $200 million in total rebate rewards. RebatesMe operates in the U.S, Canada, Australia, United Kingdom, and more.
How does RebatesMe work
RebatesMe is a cashback site that pays you back for shopping online. For example, if you buy groceries at Walmart through RebatesMe, they'll give you a percentage of your purchase back in cash. The more money they make from advertisers who pay them to promote their products on the site, the more likely they will pass on some of that profit by giving it back to members who shop online.
RebatesMe works just like other cashback sites. Using RebatesMe is very easy and simple. All you have to do is-
Login to your RebatesMe account
Search for the store or brand you'll like to shop at
Click on the provided link to the store (Important!)
Validate the link by confirming the popup notification you'll receive
You'll be redirected to the store. Simply complete your purchases as you would normally do
That's all! You don't need to perform other steps or fill out a form to claim your cash back.
Alternatively, you could install the RebatesMe browser extension that automatically notifies you of the highest cashback rates & best offers available at any online store you visit.
RebatesMe sign up bonus.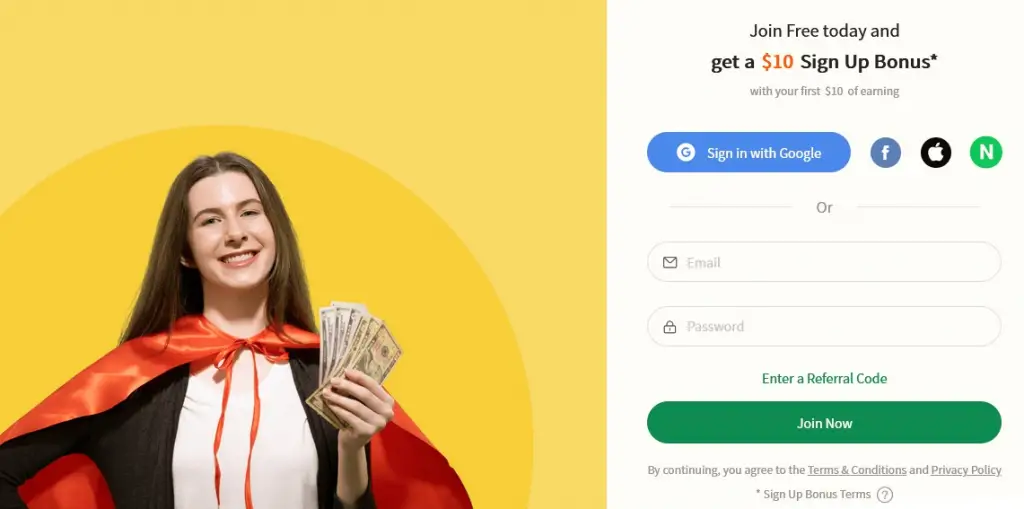 RebatesMe is currently offering a $10 signup bonus to its new members when they join through a unique referral link. New members will only be able to cash out this bonus once they've accumulated at least $10 in cash back through online purchases within 365 days of your join date.
How to earn it 
 Create a free account through a unique referral link.
Your $10 bonus will be credited to your account as soon as you register.
 Shop online at participating merchants and earn $10 or more in cash back rebates within 365 days of joining.
 As soon as you earn $10 in cash back from purchase transactions, the $10 RebatesMe sign up bonus will become payable, and you can request a payout.
The $10 bonus and any cash back you earned will be credited to your PayPal account or credit card account (Visa/Mastercard).
RebatesMe $10 referral program
RebatesMe is currently offering a $10 referral bonus for every successful referral. For each friend you refer, you'll receive a RebatesMe referral bonus of $10.The bonus is payable after they've accumulated a minimum of $10 in cash back within 365 days of signing up with RebatesMe.
There is no limit to the number of friends you can refer. So feel free to refer to as many friends as you like.
How to earn it
1. To access your unique referral link and other sharing options, visit the "Invite Friends" section of your RebatesMe account.
2. Share your RebatesMe referral link with your friends and family.
3. You will receive a $10 referral bonus in your RebatesMe account whenever someone signs up using your link.
4. You will earn a $10 referral bonus, and your referrals will receive a $10 welcome bonus when they join.
5. Referral bonuses will remain pending until your referral earns at least $10 in cash within 365 days of account opening.
6. RebatesMe does not limit the number of people you can refer.
Is RebatesMe legit?
RebatesMe is a legit site to make money online. It offers you money-back rebates on your online purchases. In this way, it lets you save money while shopping from your favorite stores. It's been operating for more than eight years and has partnered with some of the biggest brands and stores.
Some of the big stores on RebatesMe include Nike, eBay, Carter's, Bed Bath & Beyond, Samsung, Adidas, Sephora, Walmart, and several others.
Conclusion
If you want to earn cash back on your purchases, RebatesMe is one of the best sites. Get rewarded for simply telling your friends where to get them the best items for the best price. The website is quite easy to use, and it works great with your favorite browser, so you should try it out.