One of the simplest ways to make quick extra money is to leverage sign-up bonuses and promotions using cashback apps. There is no better cashback app than Swagbucks if you want to earn cashback on online shopping, surveys, and many other activities.
As per the current (September 2022) Swagbucks promotion, you can get a $10 welcome bonus (equivalent to 1000 SB) if you use Swagbucks official referral link. 
Also, Swagbucks give you the best referral bonus, where you will earn 10% of their earnings on every referral. You can read our exclusive guide refer a friend and earn money to make more money from referrals. Let's get started.
Swagbucks promotion September 2022:
Get all type of Swagbucks promotions, promo codes, deals, and offers below:
Swagbucks Sign-Up Promotion:
You will get a $10 bonus when you sign up for Swagbucks using a referral link. Enter promo code: Helpingdesi only when it asks to enter a promo code; else, this link alone is sufficient to give you a $10 welcome bonus.
Swagbucks referral Promotion:
Swagbucks referral promotion will give you 10% earnings on every referral. So if your referral will earn 50SB in a day, Swagbucks will give you 50 SB in return. 
FREE money with Swag Codes promotion:
Swagbucks special offers
Swagbucks keep running various promotions and special offers where you can get huge discount and rewards but only after joining swagbucks.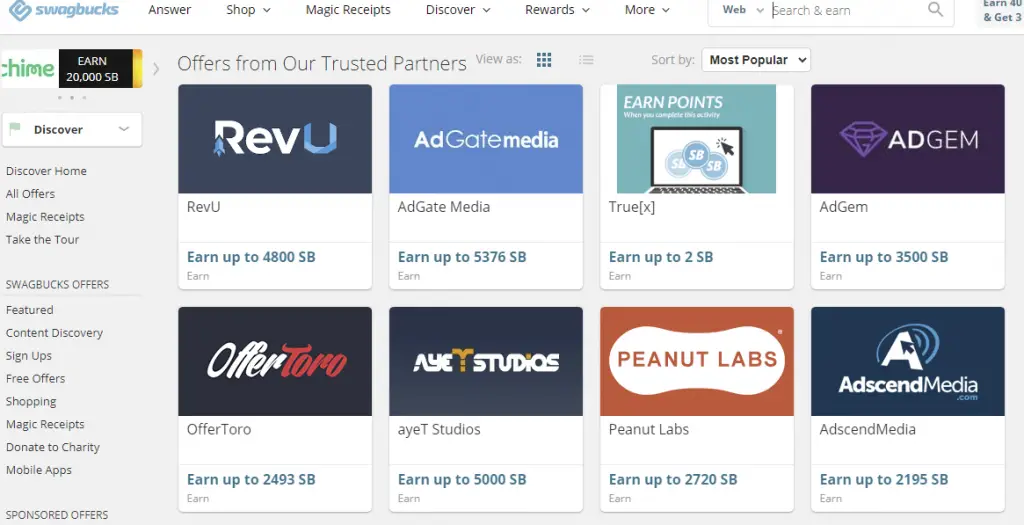 Promotion related to Searching the Internet:
You can get paid to search on the internet. You will get a $10 sign up bonus plus additional money for searching on the internet. To avail of this promotion, you need to join Swagbucks using the referral link and do relevant product searching on the Swagbucks pages. 
More about Swagbucks?
Swagbucks is a rewards site where members earn points (called "swag bucks") for watching videos, playing games, and answering surveys. The more points you earn, the better the prizes become! Members can then redeem those points for prizes like gift cards from Amazon, Starbucks, and more.
How Does Swagbucks Work?
Signing up for an account on Swagbucks is easy—all they ask is an email address and your birthday. Once you're signed up, you'll start earning points immediately by completing tasks such as watching videos playing games, searching the web, answering surveys, and finding great deals to earn points. You can redeem your points for gift cards to Amazon or Walmart, to name a few, or cash back from PayPal when you complete enough tasks.
Swagbucks $10 Sign Up Bonus.
Swagbucks is currently offering a $10 sign-up bonus for every new customer. To get a $10 sign-up bonus, follow the steps below-
How to earn a $10 sign-up bonus
1. Visit swagbucks.com 
2. Make an account by providing your email and birthday. 
3. Shop in-store or online, watch entertaining videos, play games, search the web, answer surveys, and find great deals to earn points.
4. You can redeem your points for Amazon or Walmart gift cards, to name a few, or get PayPal cash back.
Swagbucks Referral Program
Swagbucks has one of the best referral programs out there. The more your referral earns, the more you earn. For each new person referred to swagbucks.com, the referrer will earn 10% of referral earnings. So if your referral will earn 50SB in a day, Swagbucks will give you 50 SB in return. 
How to get Swagbucks Referral Bonus
1. Make an account at swagbucks.com. 
2. Refer your unique invite link to your family and friends. 
3. Swagbucks will pay you 10% of your referral's earnings as long as they remain active on swagbucks.com. 
Important Tips: If you want to earn an extra 100 SB, send your Swagbutton URL when referring to your friends and family. Once they install the swagbutton sent by you, you will be eligible for the extra hundred SB within 14 days. 
More ways to earn with Swagbucks:
Once you've signed up, there are lots of more ways to earn more:
Watch videos and take surveys
This is one of the easiest and most popular ways to make money with Swagbucks. You'll earn points called SB (Swag Bucks) when you watch videos or take surveys. You can cash in your SB for gift cards or PayPal cash.
Shop through Swagbucks
If you're already shopping online, why not through Swagbucks? When you shop through Swagbucks, they'll give you points for every dollar you spend online. The more money you spend, the more points you get! This is another easy way to rack up SBs quickly and turn them into prizes.
Play games
Play free online games at Swagbucks, and you can earn some sweet rewards for playing games online. Pyramid, games Mafia and Alu's revenge, is one of the best games at Swagbucks.com. You can earn points by playing these games and redeem them through Paypal. 
Refer friends
Referring friends is another great way to get rewarded with SBs. When someone signs up under your referral link and earns, you will also earn 10% of your referral's earnings as long as your referral is active on swagbucks.com with no maximum limit. 
Is Swagbucks Legit?
Swagbucks is legit! It's been around since 2008, so it's been around long enough to prove it's worth it. In fact, the company was founded by members of the Stanford Graduate School of Business. This one is worth trying out if you're looking for ways to earn extra money or just want some extra cash in your pocket. You can read full Swagbucks review
Conclusion
Swagbucks is a website that pays you to do things you already do online, Like watching videos, shopping online, discovering deals, and taking surveys. So, in my opinion, you should try Swagbucks to make some quick extra cash and to leverage the online shopping portals for thighs you already do.