In the world of online shopping, Temu and Shein have emerged as two major players, capturing the attention of millions of consumers worldwide. With their extensive user base and remarkable download figures, these platforms have established themselves as leaders in the industry. 
Both apps offer a wide range of products at affordable prices, but they differ in various aspects.
However, deciding between the two requires careful evaluation of various factors. In this article, we will delve into a comprehensive review of Temu and Shein, exploring everything from their product offerings to shipping policies. Let's get started-
Also don't forget to checkout Temu Promotions to earn an extra $10 sign up bonus and $10 referral Bonus.  
Overview of Temu vs Shein
Before delving into the details, let's have a brief overview of Temu and Shein.
Temu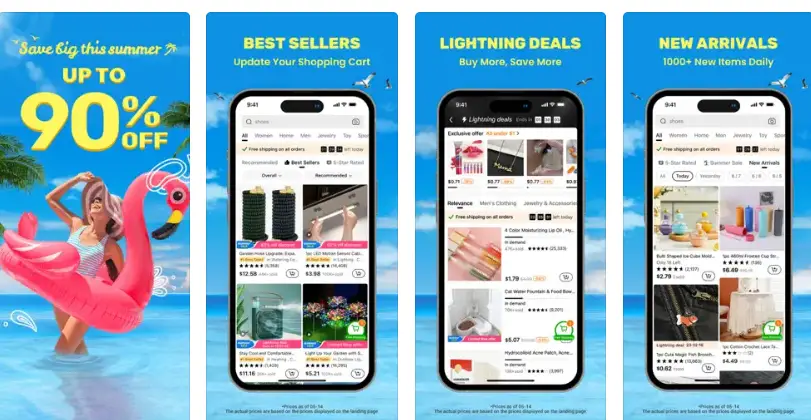 Temu is an emerging online shopping platform known for its trendy fashion items, electronics, home decor, and beauty products. Temu provides affordable prices, ensuring accessibility to a wide range of audiences. By offering stylish products at exceptionally low prices, Temu has experienced substantial growth and popularity among shoppers. The platform has particularly captured the interest of consumers in the United States, Canada, and Australia.
Temu operates as a full-fledged marketplace rather than a retailer. Instead of selling products under its own name, Temu provides a platform for sellers to showcase their offerings and facilitate transactions. This approach allows Temu to create a diverse and extensive product selection, catering to the diverse needs and preferences of its customers.
Shein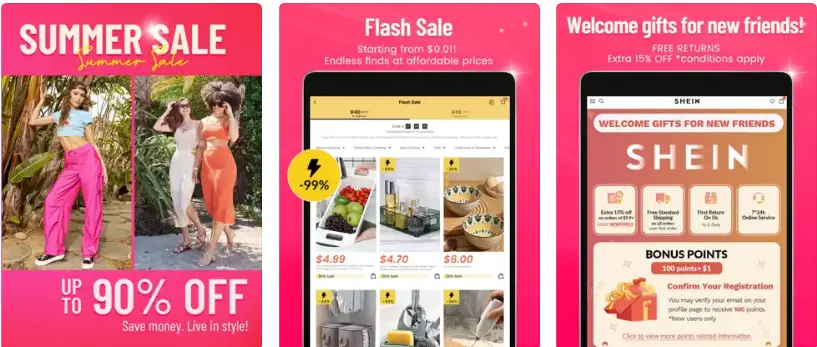 On the other hand, Shein is a well-established global fashion retailer founded by Chris Xu in 2008 offering a vast selection of clothing, accessories, and footwear for both women and men. Shein is headquartered in Singapore and has expanded its business on a global scale, extending its reach to customers worldwide. Since establishing its own supply chain network in 2012, Shein has witnessed substantial growth in the eCommerce industry.
Unlike Temu, Shein operates as a retailer and actively resells products under its own name. This distinct approach allows Shein to maintain control over its supply chain and ensure consistency in product availability and quality.
Also Read: Is Temu Like Wish?
Temu vs Shein: User Interface and Experience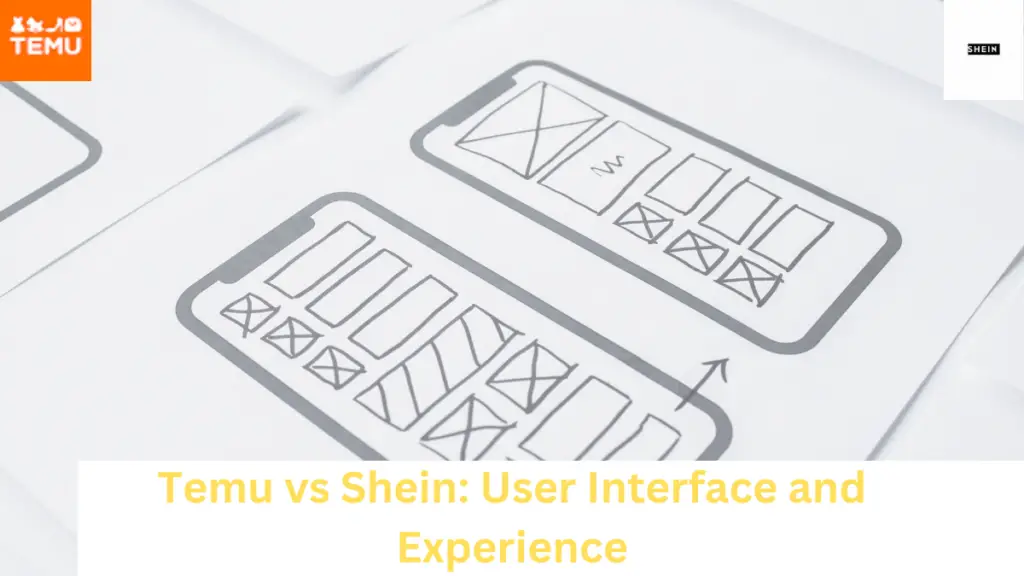 Temu
Temu offers a user-friendly interface with simple navigation. The app's layout is clean, and categories are well-organized, allowing users to find their desired items quickly. The search functionality is highly flexible, enabling users to filter results based on various parameters. The overall shopping experience in Temu is smooth and hassle-free.
Shein
Similarly, Shein offers a visually appealing and easy-to-use interface. The app showcases trendy collections with high-quality images and detailed product descriptions. Shein's search function is efficient, helping users discover products tailored to their preferences. With its sleek design and seamless browsing experience, Shein ensures user satisfaction.
Temu vs Shein: Product Range and Quality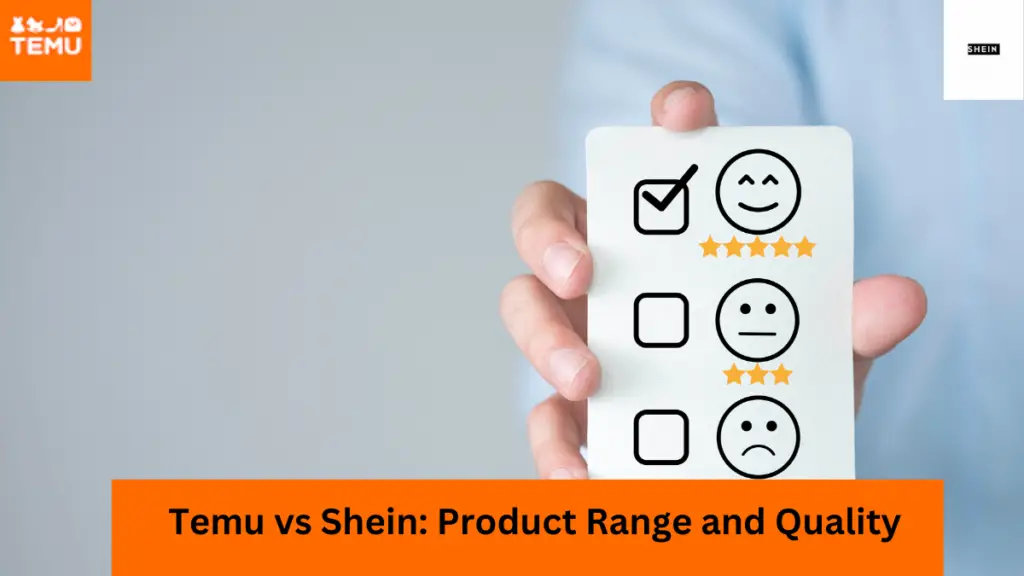 Temu
Temu excels in offering a diverse range of products across multiple categories. From clothing and accessories to electronics and home essentials, Temu caters to a wide array of customer needs. 
Contrary to expectations, the quality of products available on Temu is generally commendable, with many positive customer reviews confirming the reliability and durability of their purchases. Customers have praised Temu for its durability, noting that their clothing lasts for multiple seasons without fading colors or falling stitches
Shein
Shein, being a fashion-focused app, specializes in offering a diverse range of clothing and accessories, frequently updating its inventory with the latest fashion trends. It provides users with a vast selection of outerwear, tops, bottoms, swimwear, shoes, bags, and jewelry. The app houses a massive collection of fashion-forward items suitable for various occasions and personal styles. 
However, Shein's quality can vary despite its impressive product range. Shein's clothing, although still suitable for its price range, may not possess the same level of durability as its competitors. Some customers have reported inconsistencies in sizing and material, emphasizing the importance of carefully reading reviews before making a purchase.
Temu vs Shein: Pricing and Discounts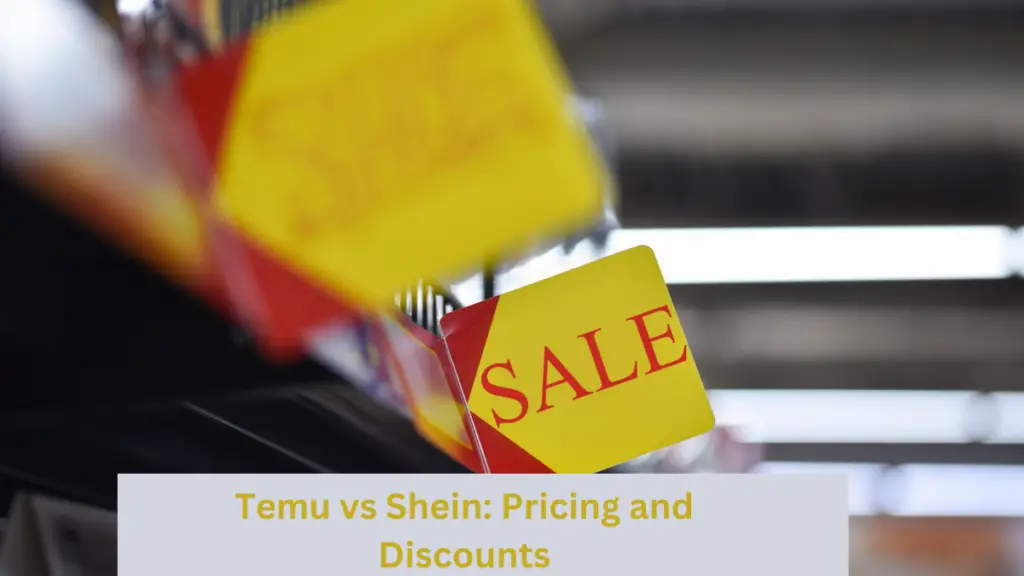 Temu
One of the key attractions of Temu is its affordable pricing. The app often offers products at discounted rates, making it an affordable choice for budget-conscious shoppers. Additionally, Temu frequently runs promotional campaigns like Temu Affiliate program and Temu Invite Friends and flash sales, allowing users to enjoy large discounts on their favorite items and to earn some extra money on the side.
Shein
Shein is renowned for its affordable pricing, particularly for trendy clothing items. The app regularly introduces new discounts and offers, providing customers with excellent value for their money. Shein's "Daily Flash Deals" and seasonal sales further contribute to its appeal by presenting exciting opportunities to score fashionable items at unbeatable prices.
Temu vs Shein: Shipping and Delivery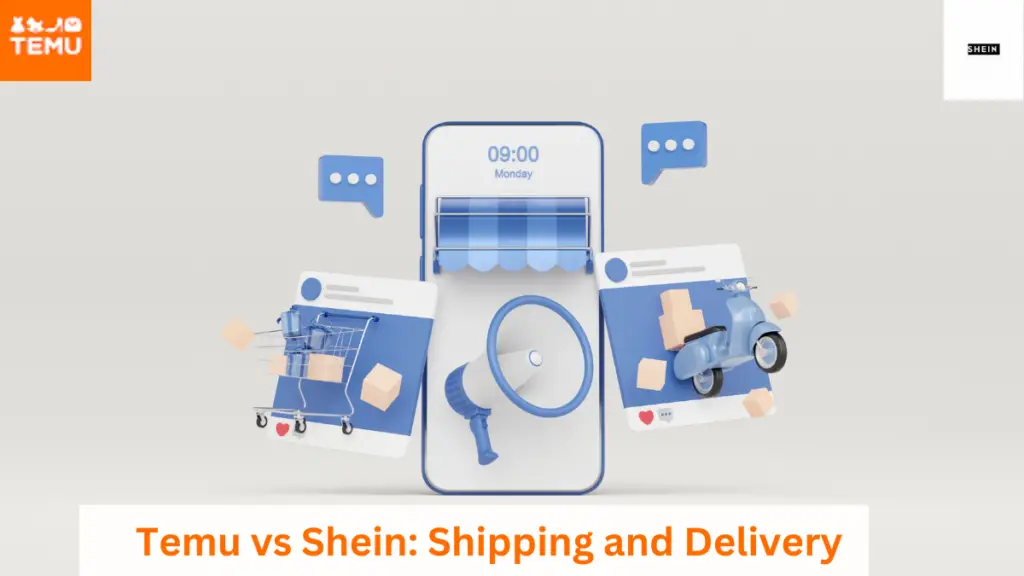 Temu
Temu strives to ensure a smooth and efficient shipping process, that's why it offers two shipping options: standard and express shipping. While Temu offers free standard shipping on almost all orders with a delivery time of 5-15 days, its express shipping costs $13 per order.
Shein
Shein has established a reliable shipping network that provides services to customers worldwide. The app offers two shipping options: standard and express shipping. Shein charges $3.99 for standard shipping, with free shipping available on orders over $129. It takes 8-9 days for Express shipping from Shein, and it varies based on the order.
 It's important to note that Shein ships worldwide, while Temu currently only ships to the United States and Canada.
Temu vs Shein: Return and Refund Policies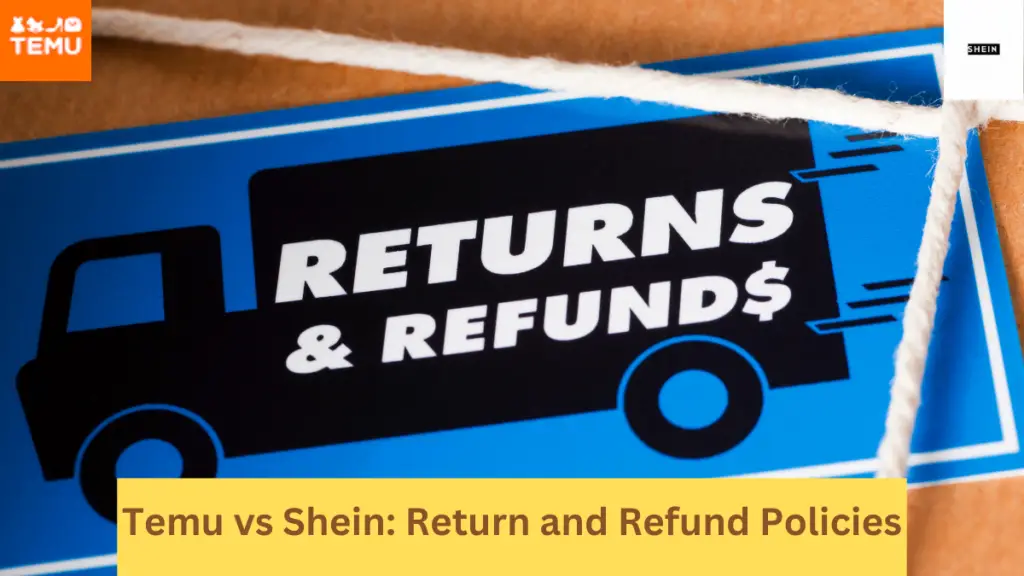 Temu
Temu has a flexible return and refund policy, which allows customers to return products within 90 days of purchase at no cost, provided the items are unworn, undamaged, and have the original tags attached. However, products must be postmarked within 14 days of the return request. 
Additionally, Temu offers the option to exchange items if a refund is not desired. It may take 5-14 days for a refund to be processed and in some cases up to 30 days to be credited back to the original payment account.
Shein
Shein, on the other hand, offers a slightly different return and refund policy. Customers can initiate returns within 35 days of purchase, provided the items are unused and in their original condition. 
It is, however, not possible to return some items, such as swimwear, lingerie, pet products, bodysuits, jewelry, accessories, and cosmetics.
Refunds are issued within seven days of successfully receiving the returned package, excluding the original shipping fees.
Temu vs Shein: Privacy and Security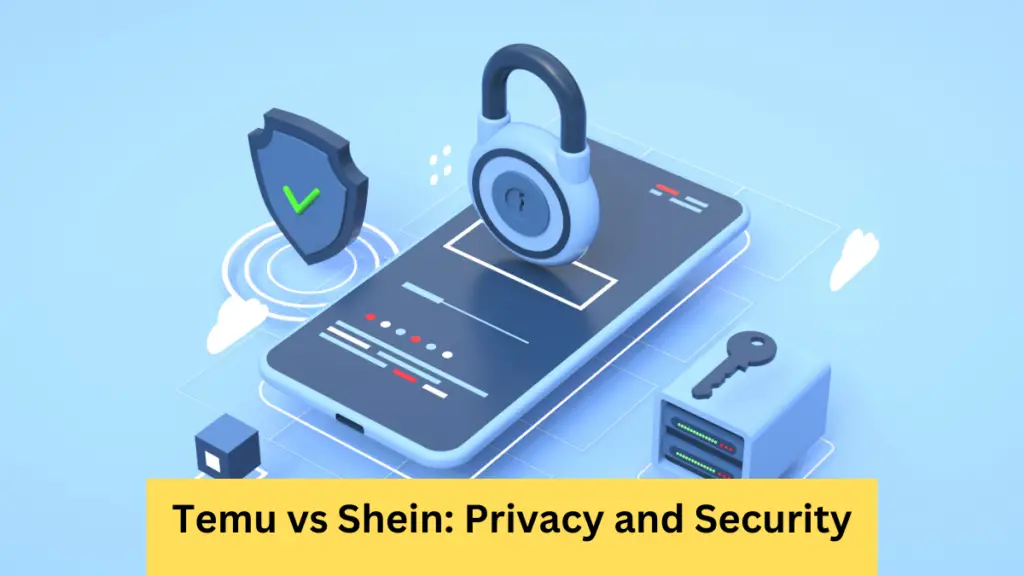 Temu
Temu prioritizes user privacy and security by implementing strong data protection measures. The app ensures secure transactions and utilizes encryption technology to safeguard sensitive information. Temu also respects user preferences regarding data usage and provides clear information about its privacy practices in its policies.
Shein
Shein takes user privacy seriously and maintains stringent security protocols to protect customer data. The app utilizes secure payment gateways and encryption methods to ensure the safety of transactions. Shein's privacy policy transparently explains how user data is collected, stored, and used, fostering trust among its user base.
Temu vs Shein: Customer Reviews and Feedback
Temu
Customer reviews and feedback play a vital role in evaluating the credibility and satisfaction levels of online shopping platforms. Temu receives generally positive reviews from customers, highlighting their positive experiences with product quality, customer service, and delivery. However, some users have reported occasional delays in customer support responses.
Read Temu Reviews to learn more about the overall features of Temu.
Shein
Shein has built a significant customer base globally, and its customer reviews reflect a mixed sentiment. While many customers express satisfaction with their purchases, there are also reports of sizing discrepancies and delays in deliveries. It's worth noting that Shein encourages customers to leave reviews and actively addresses concerns raised by shoppers.
Conclusion
In conclusion, both Temu and Shein offer unique online shopping experiences with their unique features and offerings. Temu stands out with its diverse product range, competitive pricing, and positive customer reviews. On the other hand, Shein excels in the fashion domain, providing trendy clothing at affordable prices. Ultimately, the choice between the two apps depends on individual preferences, whether it's a specific product category, pricing, or the overall user experience.
FAQs – Temu vs Shein
Can I trust the product quality of Temu and Shein?
Both Temu and Shein offer products with varying quality levels. It's advisable to read customer reviews and consider other shoppers' experiences before making a purchase.
Which app offers better discounts and deals?
Both Temu and Shein frequently offer discounts and deals. It's recommended to compare prices and promotions on both platforms to find the best offers.