Are you looking for ways to make the most of your Temu app experience? Look no further than Temu Invite Friends! Temu invite friends offers a free gift when you invite your friends to join Temu. By inviting 12 friends to the Temu application, you can receive a complimentary product from a wide selection. 
In this article, we'll tell you everything about Temu Invite Friends and walk you through the simple steps to invite your friends and maximize your rewards. Let's get started-   
Also don't forget to checkout Temu Promotions to earn $10 sign up bonus and $10 referral Bonus.   
What is Temu Invite Friends?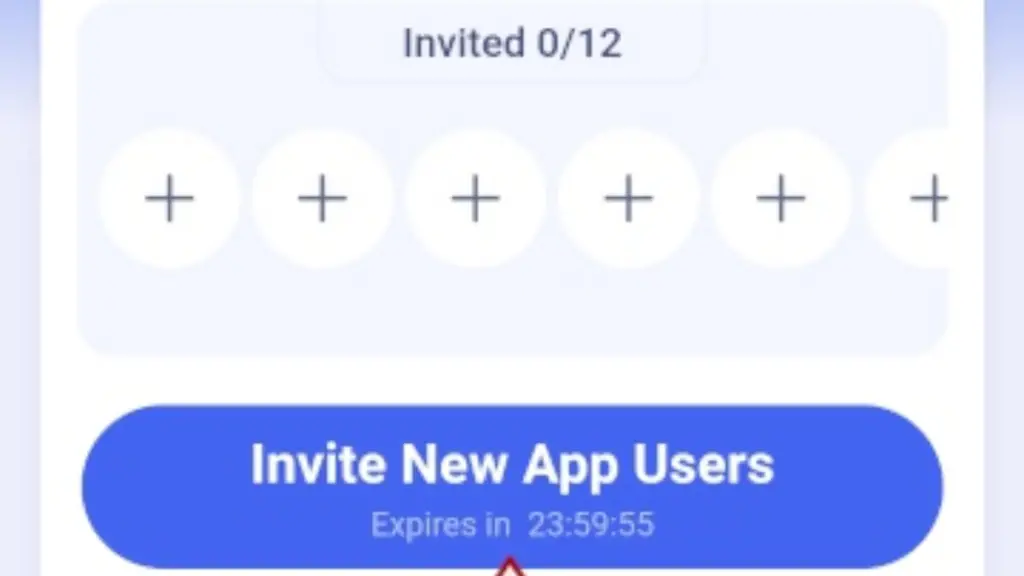 Temu invite friends is a program where you can get a free product on Temu of your choice just by inviting your friends to join! 
You can receive a free product of your choice from various categories after you invite 12 friends to the Temu app to join.
It's a win-win situation – your friends can discover something they love, and you can enjoy a fantastic freebie. 
How do you Invite Friends to Temu?
Here's a step-by-step guide on how to invite your friends and claim your reward.
Choose a Product:
Visit the main homepage of Temu.
Look for the "You" tab button located at the bottom and tap on it.
From the options displayed, select "Free Gifts."
Pick a gift that catches your interest and tap on "Get Now" beneath it.
If there are color or customization options available for the product, select your preferences on the page.
Once you've made your selections, tap on "Confirm Gift."
Add Your Address:
A pop-up will appear. Tap on "Add a New Address."
Enter your street address and other required information. Your phone number will be automatically filled out, so just ensure it is correct.
After entering your phone number, tap on "Save" at the bottom of the page.
Invite New App Users:
You will be redirected to a page where you can see your chosen gift and its details.
On this page, select "Invite New App Users."
A pop-up will appear, allowing you to choose the application through which you want to send the invitation to your friends.
Send Invitations and Claim Your Reward:
Select the desired application and proceed to send the invitation to your friends.
Once your friends join the Temu app using your invitation, you will be eligible to receive the product you selected from the "Free Gifts" section.
That's all there is to it! By following these simple steps, you can invite your friends to join Temu and enjoy a free product as a token of appreciation.Begin inviting your friends today and make sure to use the Temu Promo code to maximize your benefits.
How to Maximize Your Temu Invite Friends Rewards
To make the most of Temu Invite Friends, here are a few tips to help you boost your rewards and invite more friends:
Share on Social Media: Utilize the power of social media platforms to spread the word about Temu. Post engaging content about your experience with the app and encourage your friends to join.
Personalized Invitations: Instead of sending generic invites, personalize your messages and explain why you think your friends would enjoy using Temu. Highlight the benefits they can gain and the free product you received.
Incentives: Offer additional incentives to your friends to encourage them to join Temu. For example, you can promise to share exclusive discounts or tips on finding the best deals within the app.
Follow-Up: Don't forget to follow up with your friends after sending the invitation. Remind them about the exciting features of the app and the opportunity to receive a free product. Persistence can make a difference.
How to get free stuff on Temu without inviting friends?
To obtain free items on Temu without inviting friends, you can take advantage of the various opportunities they offer. Firstly, sign up as a new user on their website or mobile app to receive free credits and coupons for a variety of items. Additionally, engage in games such as Luckyflip, Farmland, and Fishland, which require minimal referrals and provide opportunities to earn free items and cash.
By actively participating in these games, you can accumulate rewards and increase your chances of obtaining free stuff on Temu. You can also join the Temu affiliate program as well to increase your earning potential.
The TEMU Glitch Method 2023 To Get Free Stuff on Temu
You can also take advantage of the Temu glitch method to get free stuff. To begin, you need to follow a few simple steps to make the TEMU glitch work its magic. But don't worry—it's a straightforward process that anyone can do. Let's break it down:
Step 1: Delete and Re-download TEMU
First, you'll need to delete the TEMU app from your iPhone or Android device. But don't fret about losing your existing TEMU account; you won't have to start from scratch. Simply delete the app once, and then proceed with the glitch. 
To re-download the TEMU app, open your Safari or preferred browser on your phone and type in "tinyurl.com/temu-glitch." This will activate the TEMU glitch and enable you to download the app from the provided link.
Step 2: Sign Up as a Developer
Once you've reached the download page, tap the "Download Now" button to acquire the TEMU app. This time, however, you'll be downloading a special version called the "developer's version."  
After the download completes, open the TEMU app, and you should see a "Developer Sign Up" notification. This is a clear indicator that the glitch has worked successfully.
Step 3: Enter the Coupon Code
Now, let's move on to the exciting part—entering the coupon code! Tap the "OK" button to proceed to the next screen. Within the app, navigate to the "Coupons and Offers" section. 
Make sure to type it in correctly when prompted to enter the coupon code. Tap "OK" once you've entered it, and you'll receive a notification confirming that the coupon has been successfully activated. The glitched version of the TEMU app will consider you a developer, unlocking the benefits.
Step 4: Enjoy the Benefits
Congratulations! You've successfully activated the glitch and unlocked the incredible benefits of being a TEMU developer. Now, let's explore the perks:
$100 off the entire order: As you can see, the glitched app rewards you with a $100 discount on your entire order. This means you can enjoy substantial savings on your TEMU purchases.
No cap/order limit: Unlike regular users, developers have the privilege of placing unlimited orders. So feel free to take advantage of this opportunity to get as much free stuff as you want!
Additional earnings: In the tutorial, you might have noticed that the guy showcased his earnings of $5,000. Guess what? You'll receive the same treatment! The glitched version of TEMU immediately credits you with $5,000, giving you even more reasons to celebrate
Is Temu Invite Friends Legit?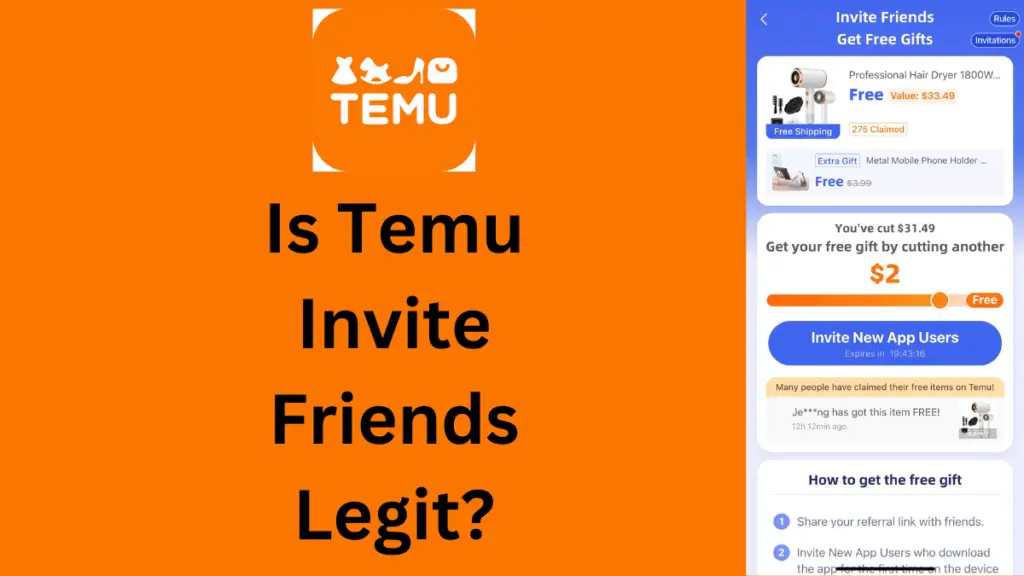 Yes, Temu Invite Friends is a legitimate program where you can earn a free gift from various categories by inviting 12 friends to join Temu app. In order to receive rewards, users must adhere to certain terms and conditions.
Be sure to check out our comprehensive Temu Review for a deeper dive into the features and benefits of the Temu app.
Is Temu Invite Friends Worth it?
Yes, Temu Invite Friends is absolutely worth it. With Temu Invite Friends you can enhance your app experience by inviting friends to join you and unlock exclusive rewards that will elevate your mobile shopping journey.
Conclusion
Overall, the Temu Invite Friends program is a hassle-free process that only requires a few taps on your screen and opens up a world of rewards and possibilities. By inviting 12 new users, you can earn exciting rewards while your friends can discover something they love. So, what are you waiting for? Start inviting your friends to Temu and unlock an exciting world of rewards today!
Temu Invite Friends: FAQ
What Does Temu Invite Friends Offer?
Temu Invite Friends offers a free product that you have chosen from the list after you have invited 12 friends to the Temu app.
Does Temu Invite Friends Hack Works?
No, Temu Invite Friends is a scam. If you want to earn free exclusive rewards you must follow all the terms and conditions.
How many temu invites for free gift?
You need to invite atleast 6 new users and if they accept your invitation, Temu will show you a list of free gifts.