When you're going out for drinks or dinner with friends, spending more on your rideshare app isn't ideal. Nowadays, there are so many cashback apps that will give you rewards and cashback just for using them; one of them is Freebird. You can earn cash back on Uber, and Lyft rides to and from your destination using the Freebird app.
As alternatives to designated drivers such as Lyft and Uber become more common, Freebird prioritizes affordability and safety.
Customers can earn rewards when requesting eligible rides via the mobile app, and partnered bars and restaurants will become preferred destinations.
In this Freebird App Review, we'll walk you through how the Freebird application works, its features, fees, pros & cons, and much more. Let's get started-
What is Freebird?
Freebird is a free application that gives you cash back for your Lyft and Uber rides. It was founded in California in 2015. There have been nearly 150,000 users since then, and nearly a million dollars of payouts have been made. 
By offering an incentive-based platform, Freebird seeks to make transportation fun and free for everyone. This innovation has earned the company more than $3 million in revenue.
How Does Freebird Work?
You must download the Freebird app on your phone to use it. You must link your Uber or Lyft account when launching it on your device. In this way, you can book rides on those platforms by using the Freebird app. 
After that, you'll earn points each time you book a ride. You can redeem points for cash rewards just like on other shopping reward sites.
Please note that Uber and Lyft will still charge you as-is for your rides. Further, you will need to book rides through the Freebird app rather than Lyft or Uber. 
You can also collect cash back by adding debit and credit cards to the app. You can then use your card to pay at participating restaurants and bars. Once the bank posts your payment, you'll receive the cashback in your Freebird app.
Freebird Features
Bar and Restaurant Cashback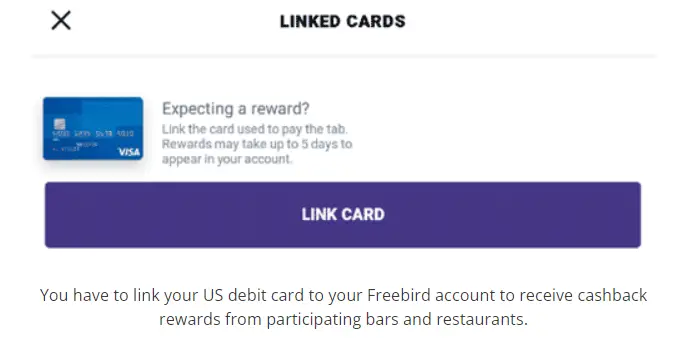 Apart from getting cashback from rides, you can also get cash back from participating bars and restaurants. The Freebird app lets you find local hotspots that pay people to visit them. 
You should ensure your credit or debit card is linked to the Freebird app. Once you're at the restaurant or bar with a cashback offer, you'll need to use your card to pay. After your card payment posts at the bank, you'll get your cashback. 
Cashback Offers For Riding Safe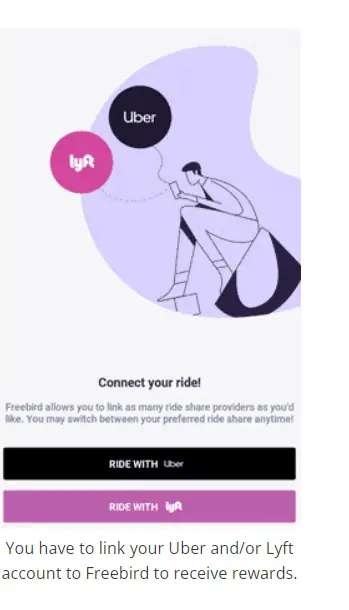 Through its partnership with Guinness and Crown Royal, Freebird ensures that its users are taking a safe ride home. If you book your ride at the end of the night, you can get discounted fares.
Earn Points on Every Ride
The Freebird app lets you earn points wherever you go. Let's say you're driving around the campus, going to the store, or getting coffee. You can still earn Uber or Lyft points if you use the app in any of these cases. 
Once you have earned enough points, you can convert them into cash and withdraw your earnings to your bank account. 
Freebird Fees
This is a free app you can download on your phone. You won't have to pay anything for Uber and Lyft rides. 
Freebird Pros & Cons
Freebird Pros
It offers a unique way to earn cashback
It is easy to use
It encourages safe driving
It offers convenient payment options.
Their app is user-friendly.
Freebird Cons
Limited earning opportunities offered
The payout threshold of $30 might be too high for some users
There's only one payout option
Doesn't offer payment via PayPal
How much money can you make?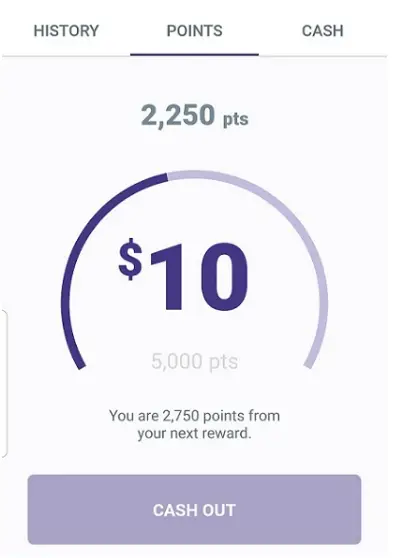 You will usually earn 250 points per ride, although Freebird frequently runs promotions where you can earn more.
Once you reach 5,000 points, equivalent to 20 rides, you can exchange them for $10 cash. If you do the math, you make 50 cents per ride with Freebird. That's not bad!
How do you get paid?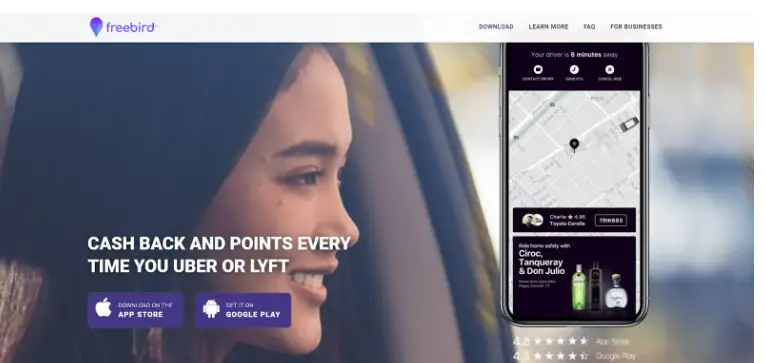 You will earn points by booking rides, or you can earn cash by booking rides. It should be noted that, at the moment, Freebird will only be accepting US debit cards. You need to link your credit card to your Freebird account to earn points.
To cash out, you must have a US debit card that you can link to your Freebird account. When you link a US debit card to your Freebird account, you can cash out once you have earned at least $30.
In my opinion, it's quite high, but I do appreciate that they do direct bank transfers.
As soon as you earn $30, you can convert your points into cash and withdraw them via direct bank transfer.
You can exchange the points you've earned for cash. You can exchange $4 for 4,000 points if you have at least $4. Once you exchange your points, the cash amount will be added to your cash balance.
Freebird only offers direct bank transfer as a payment method, which is quite convenient, in my opinion. Nevertheless, their threshold is quite high, meaning it will take some time to withdraw your earnings.
Is Freebird Legit or a scam ?
Freebird is a legit and safe app you can download and use on your device. According to the Apple App Store, the app received an average rating of 4.8 stars. Users appreciated how it saved them money on rides.
However, some users have reported issues and problems with the app. For instance, one user reported that the app would freeze while waiting for their ride. However, the same user said restarting the app resolved the issue. 
Although the app has performance issues, you will find that the developers address these in the review section. The fact that tech experts are willing to improve the app is reassuring.
Who is Freebird Best for?
Regular users of Uber and Lyft will benefit from the Freebird app since it helps them save money on their rides. It may also be a good choice for those who like to explore bars and restaurants in the city. 
If you frequently use Uber or Lyft or like to go out on Saturday nights with your friends, this app is for you.  
Conclusion
Overall, Freebird is more than just an app. It's a new and innovative way to connect local businesses with their customers, helping local economies grow. It is a unique cashback and rebate app that pays you for using Uber and Lyft and visiting restaurants and bars.
In addition, the Freebird app allows you to convert miles into points and then points into cash. You can also connect your debit card for convenient cashback.
Most importantly, you can become an active community member by supporting local businesses. When you accept a cashback offer to a bar or restaurant, you bring business to them. 
Freebird App Review FAQ
How does Freebird make money?
Business companies pay Freebird to obtain a presence in the app and reach potential customers.
Is the Freebird app legit?
Yes, the Freebird app is legitamate. 
How do you use Freebird?
To use the Freebird app, you must connect your ridesharing app and search for a destination in the app. After you complete a ride, you'll get cash back or points. Additionally, you can use the app to find out which restaurants and bars have cashback offers nearby. 
How do you get Freebird points? 
Every time you use the app, you earn points. Some partner restaurants and bars will also reward points when you pay with a card linked to your app.