Are you a fan of online shopping? If so, you've probably heard of Temu, the e-commerce platform that's been making waves in the online shopping world. TEMU offers an extensive range of products among shoppers at unbelievable low prices and you can also get free stuff on Temu just by playing Temu games, and inviting friends to join Temu.
But what happens when your Temu purchase doesn't meet your expectations? Whether it's a bunch of party favors you no longer need or those trendy checkerboard-print shorts that don't fit, you might be wondering about Temu return policy. 
So stay with us; In this blog post, we'll dive deep into everything you need to know about the Temu return policy. Let's get started-
Also don't forget to check out the Temu Promo code to get a $10 Temu sign-up bonus and a $10 referral Bonus. 
What Is Temu Return Policy?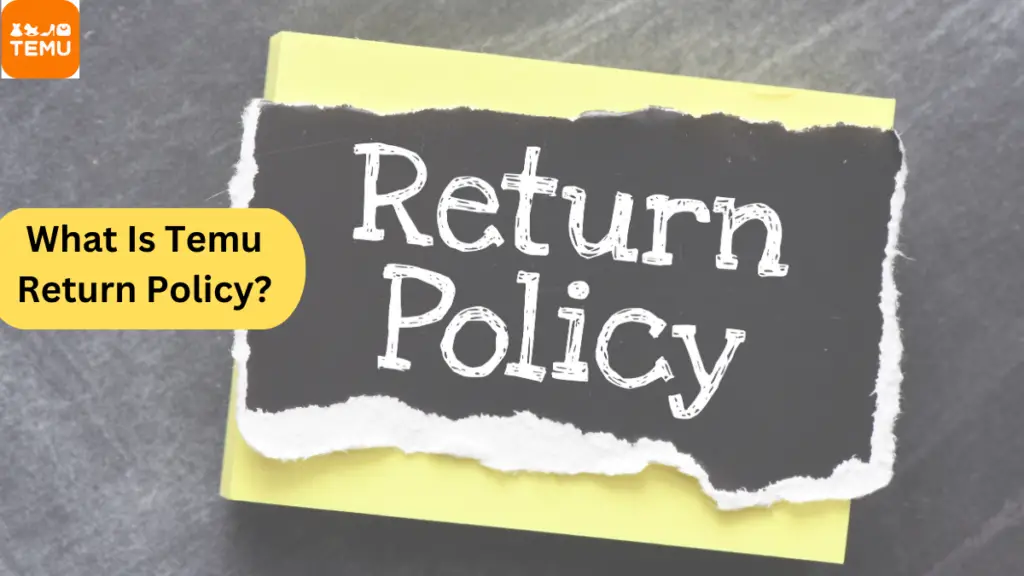 Temu has a generous 90-day return policy, which sounds promising. However, there's a catch. The 90-day window starts from the date you place your order, not the date it arrives at your doorstep. 
Considering that Temu's estimated shipping times can be up to 25 days, it's essential to keep this in mind when planning a return. As long as you're within the 90-day timeframe, returning items to Temu is relatively straightforward.
Understanding Temu Return Policy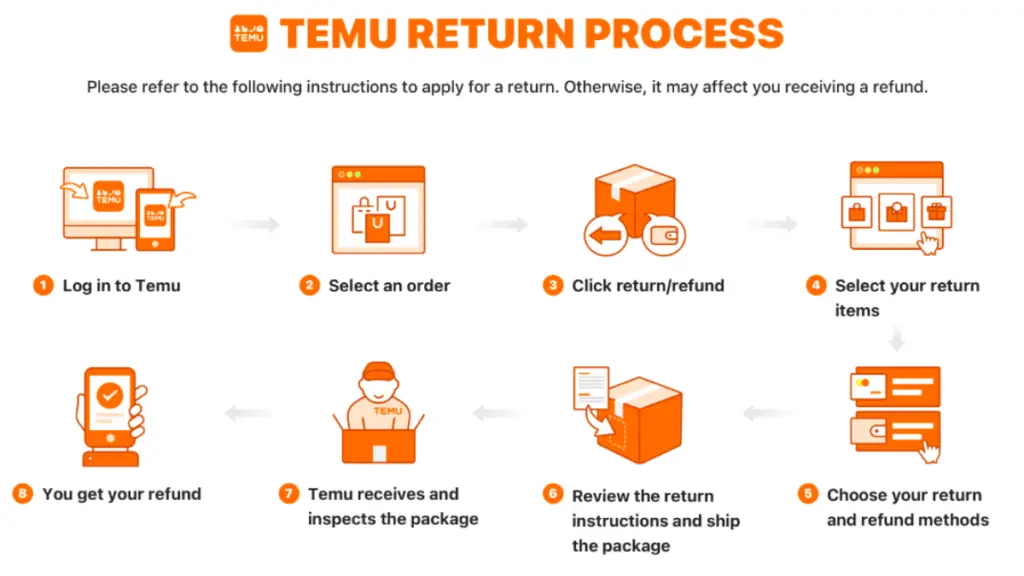 Returning an item on Temu is a straightforward process, designed to make your life easier. Here's a step-by-step guide to help you get started:
Access Your Temu Account: You can initiate a return by accessing your Temu account on Temu.com or through the Temu app. If you don't have a Temu account, no worries! Simply click on "Save your Order" in your Temu order email to begin the return process.
Find Your Order: Locate the relevant order in "Your Orders" and click on the "Return/Refund" button.
Select Items: Choose the item(s) you wish to return and provide a reason for the return. Depending on the reason, you might need to provide additional information. Afterward, click the "Next Step" button.
Choose Refund Method: If the item doesn't need to be returned, you'll be prompted to select your refund method. You can choose to receive your refund as a Temu credit balance or back to your original payment method. Make your choice and click "Submit."
Return Instructions: For items that need to be returned, you'll be given return and refund options. After submitting your request, you'll receive a return label for free return shipping within the United States (excluding security-restricted areas like military bases).
Label and Ship: Print and attach the provided return label to your package, then drop it off at the nearest USPS/UPS location.
Check Status: You can monitor the refund status of your item(s) on your order details page or through Temu's SMS/Email/Push notifications.
It's important to ensure your return package is postmarked within 14 days of submitting your return request. Note that the return label is valid only for shipments within the United States. 
Refund Timeline
After Temu processes your refund, it may take some time for your financial institution to make the funds available in your account. Refer to the following table for more details:
5-14 Business Days: Depending on your financial institution, it can take anywhere from 5 to 14 business days (up to 30 days) for the refund to be credited to your original payment account.
Want to earn more money with Temu? Join Temu Affiliate Program to earn up to 20% commission and $5 for every new user you refer.
Is the return shipping free?
Yes, Temu shipping policy offers free return shipping for your first return on EVERY order within 90 days of the purchase date. If you need to return additional items from the same order after the initial return, you can use the provided return label but will incur a $7.99 shipping fee, deducted from your refund. To reduce environmental impact, it's advisable to return all items from the same order in one shipment.
Read Also: Where does Temu ship from in 2023- The Ultimate Guide
Where can I find the return label after applying?
You can access your return label in two locations in "Your Orders":
Click on "All Orders" → "Print a return label and start return" → click on "Print return label."
Alternatively, click "Returns" → "Print return label" to download and print your return label.
How long do I have before making a return?
You can return eligible items within 90 days from the date of purchase. The return package must be postmarked within 14 days after you submit your refund request. After the 90-day window, returns are not accepted.
Can I return any product I bought in Temu?
Most items bought on Temu are eligible for return and refund, with a few exceptions:
Clothing items that are worn, washed, damaged, have tags, packaging, or hygiene stickers removed, or are in an incomplete set.
Items labeled as non-refundable.
Gifts.
Read Also: Best Things To Buy On Temu In 2023
Conclusion
In summary, Temu return policy is designed to provide customers with flexibility, convenience, and peace of mind when shopping online. The 90-day return window and free initial returns are particularly advantageous, ensuring that you can make returns without any added costs. So, the next time you shop in Temu, do so with confidence, knowing that you have a customer-friendly return policy to rely on.
If you want to know more about Temu, read our detailed article on Temu Review.
FAQ
Can You Return Multiple Items from the Same Temu Order?
Yes, you can return multiple items from the same Temu order. However, it's in your best interest to return all the items at once. Temu's website explains that you'll receive only one free return shipping label per order. If you decide later that you want to return more items from the same order, you'll have to pay a $7.99 shipping fee when printing the second return label.
How Long Does the Temu Refund Process Take?
According to Temu's website, refunds are typically processed three business days after the company receives your return shipment. They do mention that refunds can take up to 30 days to be credited back to your original payment method, although it usually happens within five to 14 business days.
Does Temu Provide Return Labels?
Unlike some other e-commerce sites, Temu offers free returns in exchange for a full refund. However, here's where it differs: you won't receive a return label with your order. Instead, you'll need to log in to your Temu account, select the items you want to return and choose your preferred return method.